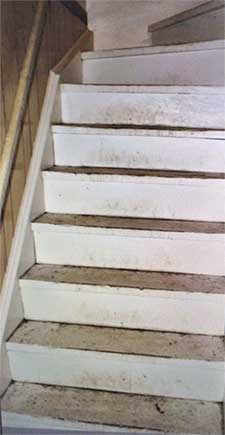 For home staging, we're often looking for a quick and inexpensive fix for the less appealing aspects of our client's home.
A new home stager wrote me recently with this photo of a stairway and her home staging dilemma.
"I have a client with wood basement steps that I would like to suggest painting Sag Harbor Gray and the risers white.

I'm unsure of the finish as these steps lead to a basement apartment and common laundry area.

Would you use satin?"
Before jumping into my opinions on paint, I want to discuss two alternatives.
Two Options to Deal With Ugly Stairways
Installing carpet on the stairway

Pros – Can be done relatively cheaply and completed in a day. No delay waiting for paint to dry.
Cons – There might be a delay getting a sample for the client, gaining approval and scheduling the installer.
Not everyone likes a carpeted stairway because it's difficult to vacuum and hard to keep clean, especially if it will be used by a tenant as is the case here.
Painting the stairway
Pros – Cheaper than carpet, easy to clean. Color options are limitless. Since you'll have your paint swatches with you at the initial home staging consultation you can get immediate approval to the color choice.
Cons – Time needed for each coat to dry means you can't use the stairs at all for that period. Depending on what else has to be done "on the other end" of the stairway, this could be a major problem with a tight timeline.
Home staging often involves trade offs of some type.
When the house hits the market, aesthetic concerns and the price point of the home are all key factors to consider during your home staging consultation.
One home stager's opinion
My personal preference would be painting the stairs as the home stager suggested, however I don't completely agree with her color choices. Though I agree that Sag Harbor Gray is a great starting point.
Benjamin Moore® Sag Harbor Gray (HC-95) is one my favorite home staging colors and why I featured it in the Staging Diva Ultimate Color Guide.
It's a yellowy-greenish gray which makes it much warmer than a more dull gray, like Ashley Gray (HC-87).
I agree with the home stager who sent me the photo, it's a good choice for this basement stairway.
I would not recommend white paint for the risers because they will get scuffed up over time, especially if people wear shoes on these stairs to the basement.
You can already see the existing paint is quite marked on the risers.
Plus white is a bit too much of a contrast from the Sag Harbor Gray, in my opinion. It will draw attention to the risers and make them "pop", but why would you want that since they're not especially attractive?
I'd be more inclined to go with Richmond Gray (HC-96) or even Old Salem Gray (HC-94) for the risers.
Each one of these would provide a different look when matched with Sag Harbor Gray.
Or, you could use these two together and skip Sag Harbor Gray completely.
While a paint with more sheen will wear better over time and be easier to clean, it's also more slippery. For the steps I'd recommend a flat or eggshell finish. The risers could be done in a pearl or satin finish.
Home stagers, what do you think?
What color combinations and finishes would you recommend for a stairway like this? I'm always happy to see what others come up with. Please add your thoughts in the comments below.