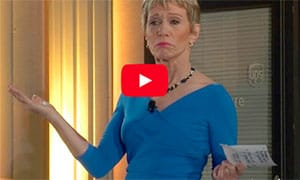 It's so interesting how we choose to define ourselves. Often without knowing where those definitions came from, or realizing how they've limited our career (and life) possibilities.
Perhaps a grade school teacher said you were bad at painting. And you've spent the past 40 years saying "I'm not creative," missing out on a myriad of opportunities and the joy that comes from using your gifts.
I watched a video of Barb Corcoran sharing how her grade 3 teacher, Sister Marie, made her feel stupid and how that's played out in her adult life. (My apologies that YouTube has taken it down so I had to remove it from this blog post!)
Basically the gist of it was that because she couldn't read at the age of 8 (no one knew she was dyslexic), the nun told her if she didn't learn to pay attention, she would "always be stupid."
How she continues to feel the pain of that today despite all her success— even when she walks into a cocktail party and tries to meet new people. A situation I personally loathe because I'm such an introvert.
By embracing her real talents, she's been able to flip that insecurity about appearing stupid into a new inner "script" that builds her confidence.
Because we undervalue our natural gifts, we tend to take them for granted.
Here's what I mean. One Staging Diva reader commented on one of my blog posts,
"I have never thought of myself as a creative type, but have always had reactions to rooms when I walk in them. I just know the things in the room making me uncomfortable, or relaxed, and can give solutions or suggestions to make them better.

I thought I was just weird and didn't realize I might be a potential home stager!"
Decorating and Home Staging Are "Easy"
If you have a natural eye for decorating, you've probably assumed everyone else does too. They don't.
What comes easily to you is actually a struggle for 90% of the population. Otherwise, there wouldn't be so many ugly homes on the real estate market.
Your friends wouldn't be asking for your decorating advice.
I was born to be a home stager so when I walk into a room I can't help but notice what's wrong with the placement of furnishings. How the light is too dim, how the color on the wall sucks.
It's a reflex. It's relatively easy most of the time.
The moment I fully realized everyone couldn't do this "decorating thing," was when I suggested a client move her bed onto a different wall of her apartment. She replied,
"I've lived her for 7 years and it never occurred to me to put the bed over there!"
That was a total eye opener! How is that possible? Doesn't everyone move their furniture around in every possible combination when they move in?
Turns out they don't! The movers plunk everything down during the rush of moving day, and that's where it stays for as long as the family lives there.
If there's a nail on the wall, they put the first available picture on it. Whether the picture is too small, too large, or the nail is too high.
They never give it a second thought.
When you have the natural talent you need to be a home stager, something I don't believe anyone can teach you (one can teach rules, not talent), you don't operate this way.
You've always paid attention to the placement of your furniture and art.
You've tried different colors on the walls.
You feel uncomfortable when you walk into a room that has it all wrong.
You care where you sit in a restaurant because sitting in the wrong place just feels wrong.
Others think you're too picky, or neurotic. Maybe they've made you feel bad for your sensitivity. 
I've heard that my entire life. I still hear it every time I go to a restaurant with my mother.
Instead of feeling bad about my hyper sensitivity to my environment now, I embrace it for the gift that it is!
It's the gift that's brought me here and allowed me to help home sellers make tens of thousands of dollars more when they sell their homes.
My gift has allowed me to help close to 10,000 other home stagers earn a living from their own decorating talents.
Have you taken your own talent for granted? How have others made you feel insecure for your gifts? What are you going to do right now to change that "script" and step into your own power?
Please share in the comments, I really want to know and I know you'll inspire others too!