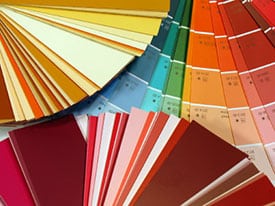 A homeowner in Whitby, Ontario, has requested my assistance with redoing her kitchen. I don't have time to travel to this client to handle this color and design consultation personally and I'd love to refer it to a Staging Diva Graduate.
The client says she's at the early stages of her kitchen renovation and needs help with paint, and the selection of cabinets, counter top and flooring. She didn't mention it, but I know she'll need a back splash too. I love picking tiles and then coordinating paint colors to match, don't you?!
This will be such an awesome addition to your home staging and design portfolio and a chance to create a real wow factor for a client.
Dream Up Different Kitchen Scenarios
When I've done kitchen projects like this, I've started by selecting a number of samples for each element and then grouped them together in various scenarios.
In other words, you're helping the client choose between various groups that show wall and cabinet color, floor, counter and back splash samples that all work together in that grouping.
You're able to charge for your time with the client as well as your time to source all these samples. You might even get to go with the client and actually help her choose the right slab of granite!
If you work it right, you can also earn money on whatever they actually buy. I teach you how to do that in Course 5 of the Staging Diva Home Staging Business Training Program, "Over 30 More Ways to Make Money in Home Staging."
Color and Design Consultation Job — How to Apply
We've made it easy for you to apply for this color and design consultation job. All you need to do is complete the form at the Staging Diva Home Staging Project Referral Service.
Please be sure to include "Color Consultation Job Whitby Kitchen" as the project location in the first line of the form.
This project will be referred first to members of the Staging Diva Directory of Home Stagers at no charge. If there's not a Directory member available for this project, it will be open to any Staging Diva Graduate with a professional Internet presence. (It's difficult to convince a client to hire you if they can't review your home staging portfolio, after all!)
If you get any paid work through this referral, there will be a $250 referral fee, which you can build into your color and design consultation fee if you'd like. It's entirely up to you. Remember, there are lots of revenue streams from a project of this magnitude!
Because of all the traffic generated by my many home staging websites, I get lots of leads on staging color consulting and interior redesign jobs from all over the United States and Canada, and as far away as England, Australia, New Zealand, Germany, South Africa and Israel! I will only refer them to Graduates.
I generate tons of traffic for anyone listed on the Directory. Just one good project would more than pay for your entire training program plus building and hosting your web page on the high-traffic Directory of Home Stagers for an entire year! When clients find you from your listing in the Staging Diva Directory, I do not charge you a referral fee.
Debra Gould, The Staging Diva®
President, Six Elements Home Staging and Voice of Possibility Group Inc.
Home Staging expert Debra Gould also known as The Staging Diva is the author of 5 books including the Staging Diva Ultimate Design Guide and Staging Diva Ultimate Color Guide.
You can get your company listed in the Staging Diva Directory of Home Stagers. We build your page and all the code to help search engines find you!