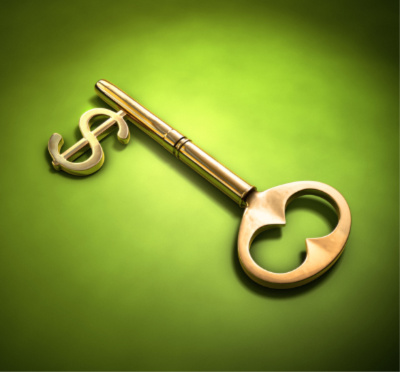 It's amazing how many home stagers think they should be real estate agents too. They think that's a fast road to easy money, not realizing that home stagers often make more money than real estate agents.
I read a recent blog post written by a real estate agent fed up with people trying to work out his paycheck by multiplying the price of a house he was selling by 6%.
Everyone assumes he must be filthy rich and he said in his post that many agents do the same type of math, lulling themselves into a world of delusion where they believe they're actually doing okay.
He stated (and I agree) that this is a dangerous perception that will lead to bankruptcy.
The real estate agent in the article worked out his hourly wage. He calculated all of the fees that he has to pay his broker and added that in with his other bills including:
Car payment/maintenance/fuel, etc.
Cell phone bill and other utilities
Desk fees
Signage
Office supplies
Assistant's salary
Referral fees
Gifts
Registration fees
Business meals
Apparel
Health insurance
Taxes
Promotional items
Marketing
And the list goes on and on and on
When he got that big number and figured it all out— including the fact that most often two agents share the 6% commission (which is now more often 5%)— and he wrote down the number of hours he works (roughly 14 or so a day), discovered that he was actually only earning $17/hour.
This real estate agent was one of the top producing agents in his office. I suspect that most agents are actually earning closer to half of that number, especially those who are new to the business.
In fact a 2017 National Association of Realtors study found that 56% of Realtors with two years or less experience made less than $10,000 per year!
Home stagers have a much higher earning potential than this.
In my second year as a home stager I was earning up to $10,000 a month (not per year like agents). Plus, unlike real estate agents, home stagers don't have to worry about starving to death in a "slow real estate market" because no matter what the market is doing, home staging still works.
If you're a real estate agent giving your clients free home staging advice, did you ever consider that your passion for decorating and talent for home staging could make you a lot more money than collecting real estate commissions?
Depending on where you live, you can earn anywhere from $300 to $600 for a single home staging consultation.
And your only real expenses are your fuel because everything else is billed to the client. Remember, that's only the money you're making from home staging consultations, that's not even counting what you can earn if you actually turn some of those consultations into full-blown home staging projects.
Real estate agents, are you giving away your valuable home staging knowledge for free when it could be earning you tens of thousands of dollars per year? I urge you to read an article I wrote on this topic called "Recession Proof Your Real Estate Career" because it will really help put things into perspective for you.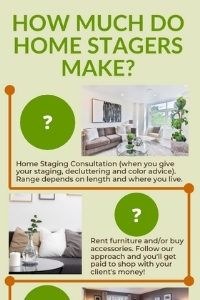 You may also benefit from a FREE Tip Sheet I prepared, called How Much Do Home Stagers Make?
In it you'll learn about the 4 phases of a home staging project. You'll be surprised to discover how much money you can make for each phase! And it's on the spot. Not like real estate where you can wait months if not years to get paid for your efforts!
Home stagers, did you start out as a real estate agent sick of living from commission check to commission check? Please share your story by leaving a comment below!