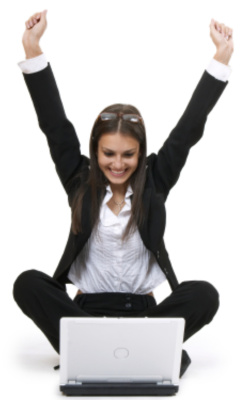 It's much harder to get clients when no one can find your home staging website in a search engine.
Trying to learn about Search Engine Optimization or SEO for your home staging website can feel like "falling down the rabbit hole" into another universe, where the language is strange and everyone seems to have conflicting opinions and bad advice.
SEO is critical if you want your home staging website to come up in the search results when someone is trying to find a home stager on Google, Bing, Yahoo or any other search engine.
Jargon-Free Home Staging SEO Tips
SEO is a technical topic that can get very jargon-filled. In this article, I'll stick to the 9 most important (and easiest) home staging website SEO tips you want to consider when building or updating your site or blog.
I base these tips on the thousands of hours I've spent learning about (and following the growth of) this topic since 1999 when I built my first website.
Use keywords in your domain name or page URL where possible. A "keyword" or "keyword phrase" is something you think people will type into a search engine to find what they're looking for. When the actual keyword phrase appears in the URL (the actual address of the page), your page is more likely to come up higher in a search result for that phrase. Can you spot the URL for this page?
Page titles should include keywords. Don't call your portfolio page "portfolio." More effective would be "Toronto home staging portfolio" as an example.
Repeat keywords in headlines and subheads. Can you guess which phrase(s) I'm using in this article?
Link keyword phrases within your pages, it helps search engines know what your site is about. Plus it encourages people to spend more time on your site.
Get relevant and well established websites to link to your home staging website. All members of the Staging Diva Directory of Home Stagers get a link to their own website if they have one.
Don't over stuff your pages with keywords, keep it under about 5% of the total words on the page.
Include relevant and interesting content on your home staging website so that people visit multiple pages on your site, share your content through social media, comment on your home staging blog, etc.
If you're offering your home staging services in a specific geographic area, don't try and compete for the very general (and competitive) phrase "home staging." Narrow your keyword phrases further by being more specific. For example, by including the areas you serve: "Home staging Dallas" or "Denver home stager." After all, if you're in Texas there's no point having a New York home seller visit your website.
Don't include hidden words that are there for search engines only.  Playing games like running white text on a white background is a "black hat technique" that can get you banned from the search engines entirely.
Whole books, thousands of websites and entire businesses are devoted to SEO techniques, or offering SEO services.
It's important to understand that no one really knows the exact formula search engines like Google use to determine how websites are ranked in search results. Plus the formula always changes to prevent unscrupulous companies from "gaming" the system.
If you stick with the 9 basics I've shared here, you'll be further ahead than many of your competitors' home staging websites.
Other Factors Affect Search Engine Results
Remember your home staging website search results will change over time, so you need to be consistent in your SEO efforts. Also, not everyone will get the same search results for the exact same phrase because there are many factors at play. For example:
Where your computer is located geographically when you're doing the search (the search engine knows this because of your IP address).
Whether you are logged into the search engine when you do your search.
What other sites you've visited in the past.
More Home Staging Website Help
If all this sounds too intimidating, I can help you directly in two important ways.
If you're a Graduate of the Staging Diva Home Staging Business Training Program, you can join the Staging Diva Directory of Home Stagers which means you won't have to build your own website at all. Learn more about joining the home staging directory letting my team do all the work for you.
If you already have your own home staging website and it's not performing well, I can have a one-on-one consultation with you by phone to discuss ways of improving your website— from an SEO point of view and also to make it more appealing to potential clients. Or you can get tips and feedback during a Staging Diva Dialog Group Coaching call. Learn about these options here.
Can You Guess My Keyword Phrase?
This article is 894 words. Can you guess what keyword phrase(s) I was interested in for this page? How many times do they appear within this blog post? Add your guesses in the comments section.
I'd love to continue this series of articles to help every home stager get more clients from their home staging website. Please post your questions and comments below and share this story with your fellow home stagers. The more people who get in on this conversation the better, because we can pool our knowledge and inspire each other!