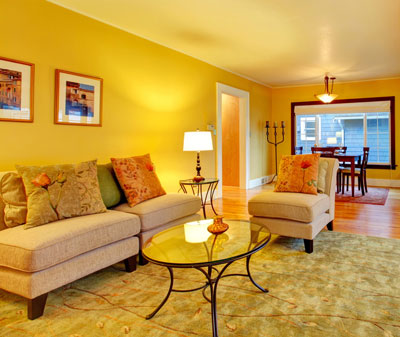 In a recent post I highlighted the difference between home staging and decorating.
One of the key differences that struck me is that staged homes showcase the way someone would dream of living in a particular home.
A 2002 Forbes Magazine article called home stagers "the dream weavers of real estate."
It was one of the things that inspired me to start a home staging business that year.
The idea of "weaving dreams" was really appealing.
Plus, I loved real estate and interior design and had no desire to become a Realtor.
Staged homes are aspirational
No one lives in a home the way you see it in a magazine, there's a stylist at the photography shoot.
Home staging—or decorating a house to sell— is about styling the ideal home life to appeal to real estate buyers.
A staged home is aspirational. It is often less practical than how one would live in a home day-to-day.
Few adults inhabit a completely spotless, uncluttered house.
We don't always have perfectly placed towels and accessories, fresh flowers and everything in good repair— unless we have OCD. Or no pets or children, and employ a staff to keep everything picture perfect.
But that doesn't mean staged homes are misleading. Home stagers, who work with integrity, do no hide structural defects.
Staged Homes Get Repairs as Well as Styling
A proper home staging consultation includes a list of recommended repairs, it's not exclusively about decluttering and the styling of rooms.
Typical problems that a home stager identifies are what you'd expect to find in the normal "wear and tear" of day-to-day living.
Things like: dirty and damaged wall paint, leaky taps, cracked tiles, doors that don't open and close smoothly, burned out lightbulbs, moldy bathroom caulking, etc.
These relatively minor repairs are important. Flaws distract from the home's beauty and can scare off buyers who want everything "move in ready."
Once repairs are complete, and the place has been decluttered, the property is ready for "styling" or what I call the more creative side of home staging.
This is where home stagers get to show off the best features of each room and arrange appropriate furniture.
We bring in accent colors in accessories and artwork, while avoiding silly home staging tricks.
One of my favorite pieces to a home staging project is creating those special vignettes that help buyers fall in love and imagine themselves living in the home.
Does Selling the Dream Make it Unrealistic?
So does highlighting how someone might "dream of living in a home" make it unrealistic?
Home stagers are property stylists. Just like you would have a food stylist at a photo shoot for a recipe book, or a wardrobe stylist if you're a celebrity preparing for the red carpet.
Home staging is just as realistic as dressing up for a date.
Perhaps it sets an unrealistic expectation of what you will look like in daily life (or first thing in the morning). You know, when there are kids and pets and no staff – or stager – putting you together 🙂
What do you think? Please share in the comments section.