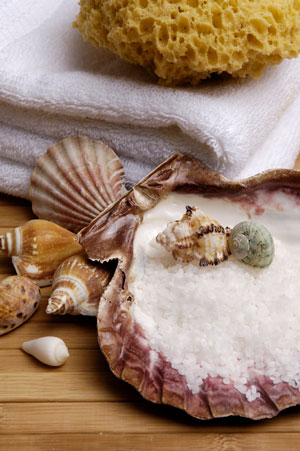 I'm a little sad that this is the last installment for the Silly Staging Tricks series.
In case you missed the first three parts. We covered:
Common Dining Room and Kitchen Staging Tricks
Today, Silly Bathroom Tactics
Although it's the smallest room in the house, the bathroom is such an important space.
That's why I don't understand the great lengths some home stagers go to with their silly staging tricks in there.
Does anyone live with tassels draped over their hand towels in real life?
When you put away your bath towels, do you stack them on the bathroom counter, wrapped with a bow and topped with a star fish?
How about filling a shower stall with little glass pebbles and dried flowers?
Champagne Flutes in the Bathroom
Does anyone set champagne flutes out on the edge of the bathtub? I confess I made that mistake myself when I staged my first client's home in January 2003. It sold anyway, but in retrospect I think that detail looked silly.
One of the craziest staging tricks I've heard of in the bathroom is filling the bathtub with blue-tinted water – especially in the winter for a house in a cold climate! Rose petals are equally odd.
How about a large ribbon tied around the toilet seat with a huge bow on the lid? Perhaps its an attempt to prevent potential buyers from using the toilet, but it's weird.
At the risk of sharing too much, I'll admit that in the more than a dozen homes I've written an offer on, I used the bathroom in every single one before deciding I was prepared to buy the house! 🙂
Yes, I asked permission first! And, no, there were no ribbons involved.
A well staged home is a clean, organized and welcoming environment. It doesn't look staged.  
This means you need a good sense of color and where to put furniture. Wondering if you have that? Take my home staging quiz.
The property should be decluttered and depersonalized, but not to the point of looking cold. And certainly not to the point of looking like every other staged home on the market.
There should be a logical use for each room. If that doesn't exist, make it up and decorating accordingly. For example, I've created children's bedrooms in homes that have no kids.
Home staging perfection is something we all strive for, especially as we fuss over the roll of a towel or what picture to hang where.
Perhaps there's such a thing as "too perfect" which can leave potential buyers feeling like the house isn't livable. Or that they'd be afraid to touch anything.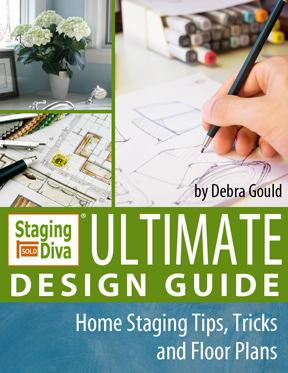 Enough with the silly and contrived staging tricks!
If you've seen any crazy ones, please share with us in the comments below!
Want to Boost Your Design Confidence?
It's totally normal to worry about whether you'll know what to do in every staging situation.
You can boost your design confidence with my best-selling Staging Diva Ultimate Design Guide.
With floor plans, photos and simple guidelines that are easy to remember, I show you what I do in every room and for curb appeal too!