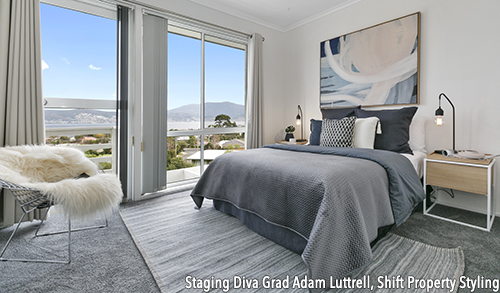 Home Staging (also known as House Staging, Real Estate Staging and Property Styling) is the art of decorating a home to sell quickly and for more money on the real estate market.
Home stagers set the stage for potential home buyers to imagine how they could live in a property and make it their home.
This can be as "simple" as rearranging what the home seller already has. Or it can include bringing in new furniture, accessories and art to make the home appeal to more buyers.
In Home Staging, Every Detail Counts
To attract more buyers and a higher offer, a home stager makes the space visually pleasing and draws attention to the home's best features.
Home stagers also get rid of clutter and depersonalize the home so that potential buyers will be able to see themselves living there.
There is an art to effective depersonalization.
Too much and the home looks bland and boring. Too little and potential buyers are distracted by thinking about the people who already live there.
Every detail counts in selling a home for top dollar. From cleanliness to the state of repair. And from furniture placement to lighting, color, art and accessories.
Home stagers attend to all of these details for their home staging clients.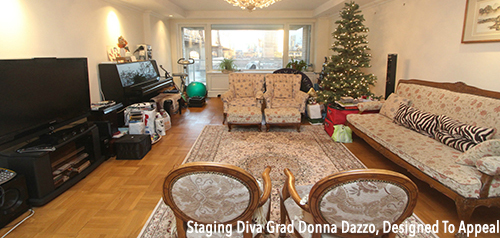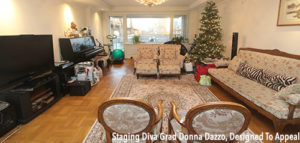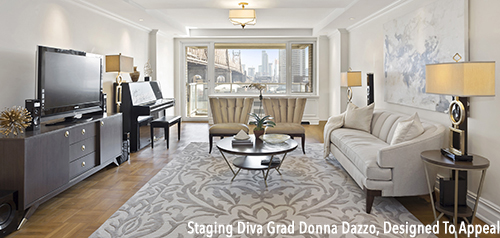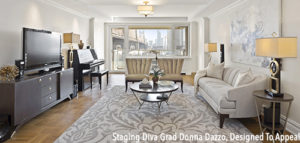 Home Staging Starts with a Consultation
Home staging usually starts with a paid home staging consultation in the client's home. The stager completes an assessment of the current state of the property and what's needed to help the home look its best.
There are many improvements a home stager can make on the spot.
In a resale property that's already furnished, part of the home's transformation will take place during this initial home staging consultation.
After the initial home staging consultation, some clients will implement the stager's recommendations themselves. Others will ask the home stager to come back for subsequent visits.
Read more about what home staging costs, and what to expect when you hire a home stager.
Why don't real estate agents stage their own listings?
Real estate agents are independent contractors, paid 100% on commission. They only have so many hours in a day!
Most real estate agents cannot spend additional time inside a client's house discussing how to improve the decor, because that's time they're not spending on getting (and selling) their listings.
Some real estate agents will suggest obvious repairs, cleaning and decluttering. They will tell home sellers to implement some of these Top 10 Home Staging Tips.
In addition to time constraints, a Realtor's staging advice is limited by their design experience and expertise.
After all, an eye for decorating is a gift! It takes vision to come to a space (especially one that might be completely vacant) and know how to turn that house into a home.
Curious if you have the eye of a home stager?
Check out this free home staging quiz to test your natural decorating talent!