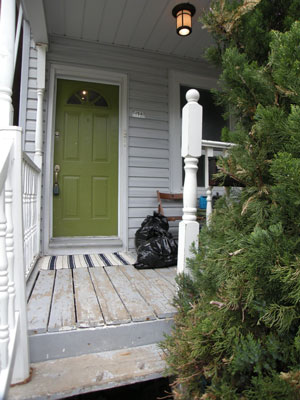 Some people suggest home staging is a deceitful practice because it's meant to disguise real problems.
This is not the case.
Home staging lets a home's best features shine through. It shouldn't hide serious problems that need to be addressed.
The entrance of this home says "Fixer Upper" because of all the junk on the porch, overgrown hedge and peeling paint.
But it's actually a sound property that needs some care to change the first impression from "Fixer Upper" to "Welcome Home."
I recommended a fresh coat of paint on the porch, stairs and railing, plus junk removal and garden maintenance for this client as part of my home staging consultation.
These services are all part of what any professional home stager should consider. These suggestions aren't misleading as you can see in this example.
Home staging isn't a band-aid solution for much larger problems.
With these properties it makes more sense for the owners to invest in repairs before staging.
Home Staging Ethics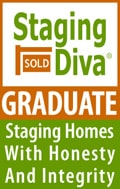 It's important to have ethics as a home stager.
"Home staging with integrity" means that the home stager won't just "put lipstick on a pig" without trying to fix problems first.
When a home has obvious defects, no amount of paint or new furniture will disguise the problems for long.
When asked to stage such a home, suggest that the owners fix what's wrong first. Hiding defects with staging isn't appropriate.
Besides, major problems will be revealed in a home inspection anyway.
Home stagers aren't trained as home inspectors. We're not experts at structural issues. But, when you notice obvious problems, point them out.
There are (or should be) home staging ethics.
There's a big difference between patching plaster and repainting after a leak has been fixed, and doing the same to hide a leaky roof.
You won't know if they've really fixed the leak. If the home seller tells you they have, and you don't see water, take them at their word.
It's not your responsibility to make sure the home is fixed. I believe it's your responsibility as a stager not to deliberately hide problems.
If a leaky roof shows up in a home inspection, the home seller will be no further ahead hiding the problem with a fresh coat of paint.
Besides, their deal may fall apart when it could have gone through had they addressed the issue in the first place.
As a home stager, you should emphasize the need to fix the leak and why. Suggest once that's done that the wall be repaired and painted.
You'll pick the colors, but that does not remove the responsibility of pointing out what needs to happen before any paint goes on the walls or ceiling.
You Can Turn Down Home Staging Clients
I once refused to stage a dilapidated house that had sat on the market for months without an offer. Instead of calling me, the vendor should have called a contractor first.
I advised him to drop his price to the land value and sell the home as a 'tear down'. Or, take the property off the market, repair all the problems and then call me to stage it afterwards.
As a professional home stager, you don't want your home staging business associated with problem properties masquerading in nice paint and furniture.
There are plenty of solid houses crying out for cosmetic changes that can make all the difference in a real estate sale.
Let your creative talents as a home stager shine on these.
Don't waste your time or reputation staging obvious tear downs. Instead, keep marketing your business and more of the right clients will follow!
Home stagers, have you ever been asked to stage a home that went beyond your home staging ethics? How did you handle it?
Do you agree that we should try and get our clients to fix problems before staging? Please share in the comments below.