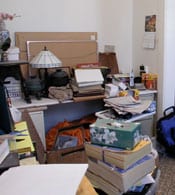 If you are in any way interested in becoming a home stager or interior redesigner, there's a good possibility that you are constantly redecorating your home and/or working on a new home improvement project.
When you have a natural talent for decorating, the urge to decorate is always there.
Whether or not you have any intention of redecorating any part of your home in the near future, I suggest you start photographing anything you don't like right now, even if you're only in the early staging of dreaming about starting your own home staging business. Whenever you're in a room or a corner in your home (the basement, attic, laundry room, spare bedroom, kitchen, bathroom, home office, junk room) that makes you cringe, take a picture.
The reason I suggest taking your before shots right now (even before deciding when to redecorate) is because if you're one of those people with a natural urge to decorate, at some point you'll be suddenly inspired and you'll dive right into the project only to realize later that you never photographed things before hand.
Once the transformation is complete, it's hard to remember just how bad things were before.
Plus it's impossible to recreate it for a "before" shot! When you've got a terrific "after" shot, you'll really wish you had documented the transformation. If not for an actual home staging or interior redesign portfolio, but even for your own satisfaction. Let's face it we all like to marvel at our own talents!
Several years ago, I had a kitchen with the ugliest wall paper border. I lived with it for an entire year. Then one day I stepped out of the shower and opened the bathroom door to let out some steam. This gave me a great view of the kitchen and that awful wallpaper. Suddenly I couldn't take it anymore! I threw on my bathrobe, dragged a chair across the kitchen and there I was tearing off the border. There were no thoughts of stopping to take a photo, I just went at my unplanned kitchen redecorating project and an important home staging portfolio opportunity was lost!
I bet there are at least three areas of your house right now that you could transform for a small amount of money. If you've been recruited to help a friend or neighbor redecorate a room in their home, take your camera with you and be sure to capture the change that takes place.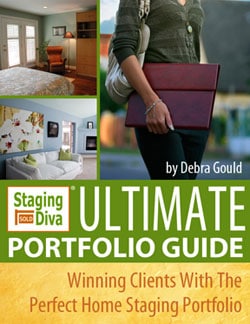 There's no need to wait until you learn home staging and start your own business to start putting together your portfolio.
This is one step to starting your business that you can be working on now. For tips on taking your before and after photos, read these past articles for some great advice:
For even more help putting together your home staging portfolio, check out the Staging Diva Ultimate Portfolio Guide: Winning Clients With The Perfect Home Staging Portfolio.
Home stagers, how long before you started your home staging business did you start taking your before pictures? Do you ever forget to take your before shots until after you have already finished a home staging project?
Please share by leaving a comment below.
Debra Gould, The Staging Diva®
President, Six Elements Inc. Home Staging
Debra Gould knows how to make money as a home stager and she developed the Staging Diva Home Staging Business Training Program to teach others how to earn a living doing something they love while helping others at the same time.
[tags]home staging, home stager, home staging portfolio, photography tips for home stagers, learn home staging, home staging business, staging diva[/tags]