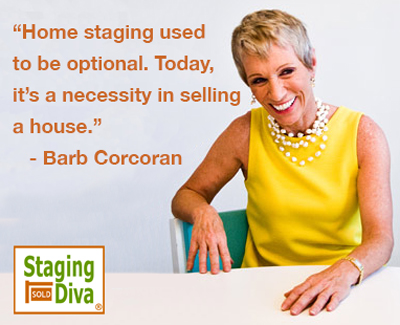 Real estate mogul Barb Corcoran says, "Home staging used to be optional. Today, it's a necessity in selling a house."
In this video she goes on to say that home staging can increase the selling price of a home by 10% to 20%.
Watch her discusses curb appeal and then walk through the key rooms providing her top home staging tips.
If you're a home stager, keep these in mind when making recommendations to your own home staging clients.
These are typical of the types of things you'll point out during a home staging consultation.
Barb Corcoran Home Staging Tips
Light sells houses, so cut back bushes that are keeping the light from streaming in the windows.
A cheap door says "cheap house," so change it when appropriate to the value of the home.
Home buyers make a judgement within 8 seconds of walking through the front door, so first impressions are key to selling a house on the real estate market.
Buyers won't mentally move into the house if they can't see past your stuff.
The kitchen is the most important room. You don't need to spend a lot of money renovating it to sell. Put a fresh coat of paint on the cabinets and walls and clean off the counters.
The bathroom is the second most important room when you're selling a house. It doesn't matter if it's a dated bathroom— apply fresh grout, re-glaze the bathtub (if necessary) and remove all the clutter.
Clean rooms always look bigger. If necessary pay your teens to keep their bedrooms clean while the house is on the real estate market.
Tidy the linen closet. It's on of the things buyers will use to judge what they can't see in your home. If it's a disaster they'll assume you haven't cared for the home. Stuff they can't see and can cause worry are things like the roof, plumbing, electrical and the foundation.
Every house has an odor. So stop smoking, eliminate pets, use potpourri, or boil cinnamon before a showing.
What do you think of these Barb Corcoran home staging tips? Is there anything you'd add to this list? Please share your ideas in the comment section.
Click for Ultimate Design Guide for Home Stagers
Credit Original image: Entrepreneur Magazine. Barbara Corcoran's quote is from this video, which I then added to her image.