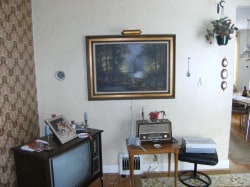 If there's one thing most home stagers can agree on it's that there's never a dull moment in this career.
You're constantly being challenged and forced to think on your feet, it really is an exciting career.
It's only made better when you hear back from a client about the results your staging brought about and realize there's more to this career than making rooms look nicer!
Staging Diva Graduate, Patricia Adamic of Ma Maison Home Staging in Oakville, Ontario wrote me recently to share an interesting home staging success story that really proves home staging works.
Patricia received a call from a lawyer who wanted help staging one of his clients' homes. Sadly, however, it was a client who had passed and there were no surviving family members who would do anything in regards to selling the house.
This compassionate lawyer arranged to meet Patricia and the real estate agent at the home and there she learned this situation was about to get more difficult.
The agent did not believe in staging and the home was in terrible shape.
It was dated with decades-old wallpaper and Patricia was given a very small budget to work with.
Instead of turning and running from the challenge, Patricia faced it head on wanting to impress the realtor and the lawyer (who would both be wonderful sources of future referrals), and prove to them that home staging works.
Patricia writes:
"With my talent and all the knowledge that I got from the Staging Diva Training Program, I staged the property and it sold in 5 days with multiple offers above asking!

I was thrilled to be able to prove that home staging really works!"
The Realtor® provided Patricia with the following testimonial,
"When I first saw the property, I knew I had my work cut out for me and that this house would take a long time to sell.

With Ma Maison Staging's expertise, enthusiasm and skill, the home was transformed into a very sellable property in no time and she did a fantastic job of staging it.

Patricia made my job easy. The house sold in 5 days and with competing offers! I would definitely recommend Patricia's services to agents and homeowners who want to get their property sold quickly and for top dollar. "
About the Staging Diva home staging courses, Patricia writes:
"Staging Diva Training has helped me to have confidence, to know how to approach different situations with clients, to organize my business and to present a professional image, while helping me do something that I love!"
Home stagers, this story does more than prove that staging works, but it's also a good reminder that we never know where our next project might come from.
Don't be afraid to leave your business cards with everyone you meet and to talk about what you do!
It also demonstrates how much good we can do as stagers, in this case, helping to settle the estate of a man who had no family wishing to do so.
Stagers, do you have an interesting story about an unlikely source of business? Please share by leaving a comment below.