Before becoming a home stager, Staging Diva Graduate Jodi Whalen of New Jersey-based Pear Tree Home Designs had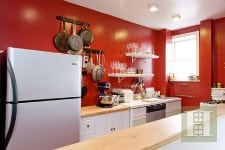 an exciting career as a Marketing Director at the Food Network.
As a home stager, though, this mother of a very active toddler has much more flexibility over her schedule.
Despite working part-time as a  home stager, Jodi has been able to triple her staging income every year since she started.
And, she's helping her clients achieve pretty amazing results as the following story demonstrates.
A friend and ex-coworker of Jodi's called her in December to see if she could help sell her one bedroom Brooklyn apartment after it had sat on the market (vacant and furnished) for nine months without a single offer.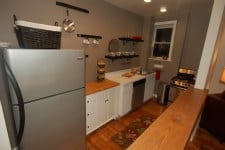 Her friend took the apartment off the market over the holidays for one month.
During that time Jodi staged it by taming down the shade and the gloss of the loud paint color, bringing in new furniture on a better scale for the size of the apartment and giving it a sense of style to match the trendy city it was located in.
Website traffic on the listing tripled due to the great new photos and within 7 days of the first open house after staging, the apartment sold for 94% of its asking price.
Jodi writes, "The Staging Diva program was worth every single penny! I made it all back in my very first staging job. And, I would have never had the confidence to charge what I do to make the profit that I've been making on my current jobs. I'm now staging homes that are in the $1-2 million range and trust me they still need our help."
New and aspiring stagers, if you enjoyed this story, you'd probably love my free collection of home stager success stories. Click here to download your copy.
Here's another kitchen home staging by Jodi.