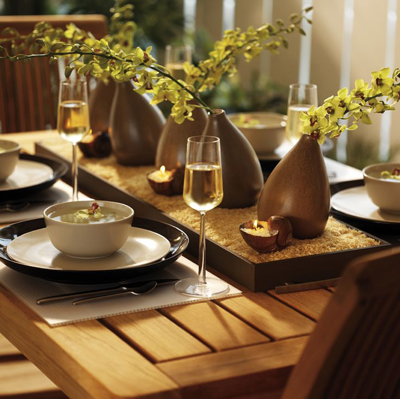 Silly home staging tricks can often backfire when a home stager is decorating a house to sell on the real estate market.
The trick is to maintain the right balance between romancing the home buyer while not being so over-the-top as to be distracting.

After all, we want people focused on the house itself not just the finishing touches.
Which brings us to the tricky matter of how (or whether) to set the table.
Like Lisa of Design Refined, who commented on a blog post I wrote about not insulting home buyer's intelligence, I agree there are times when setting a table seems appropriate.
But if you're going to set a table, do it properly!
I happened to notice on Facebook recently that a home stager was sharing photos of a recent home staging project.
She had a table "set" in the foreground of her photograph so it was very prominent. Sadly her "setting" just included cheap looking plates on place mats with a couple of fake flowers in a vase in the center. There was no cutlery and no glassware.
To my eye this really detracted from her home staging portfolio photo.
The rest of the room (in the background of her shot) actually looked great. But if you're going to set a table, then set it.
Home Stagers, Set the Table Right If You're Going To Do It
Don't leave the table looking like a distracted 5 year old was helping mom before running off to watch TV until dinner was served.
In the opposite extreme, I also don't recommend setting it in a way that is so "creative" it becomes the absolute focal point. You don't want home buyers so distracted by the table that they hardly notice or appreciate the room it's sitting in.
Elaborately set tables, like the photo of one I included in this post, look fabulous in magazine spreads and recipe books. Yet, they can be too much when your goal is decorating a home to sell on the real estate market.
Avoid Negative Emotions When Home Staging
You want to romance the buyer with how well they can live in this home when it's theirs. But if you go too far, it can have the opposite effect.
In fact it may make them think, "this house is too fancy for me to live in," or "I can never live like this," or "My life sucks, look how glamorous this is!"
These thoughts may even be unconscious but they stir up negative emotions. As a home stager, you don't want potential buyers associating negative emotions with the house you're trying to sell them!
And, not related to the issue of setting a table the right way, I want to get back to that home stager's portfolio shot of the partially set table for a moment to make another point.
If you're going to shoot an "after" photo for your home staging portfolio, pay attention to what's most prominent in your photo and whether that's the key feature you want to include to promote your staging ability.
In the example I gave of a badly staged kitchen table, the focus of her photo was the cheap plate on a partially set table in the foreground of the photo, not the lovely kitchen staging job she had done in the background.
Home Stagers, What Do You Think about Setting the Table?
Home stagers, what do you think about place settings? Do you always set the table? How elaborate do you get with it?
Not sure if you're making as much money as you should as a home stager?