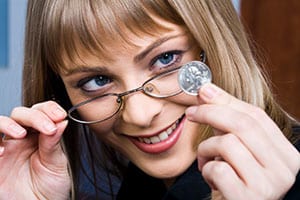 Home staging cost and home stager salary are frequently searched terms by home stagers.
Sadly, too many home stagers have no idea what to charge for their services. For some reason most training programs don't address this even though it's one of the most important factors in whether  a home staging business is profitable.
Too many beginners assume they have to offer the lowest prices—or worse, offer free home staging— to build their home staging portfolio.
This is simply not true!
When you "give it away" instead of charging properly for your home staging services, you'll be counting your pennies and quarters forever. You become the "go to" person for clients who only want cheap home staging.
It's a miserable existence forcing you to find an endless stream of clients who:
Don't value your time and treat you accordingly.
Argue with all your home staging recommendations.
Refuse to make any changes to their home that might cost them extra.
Cancel or reschedule appointments at the last minute.
Make you jump through hoops to get paid, bounce checks, or simply refuse to pay with or without a "reason."
If "giving it away" or being the lowest price home stager is your home staging business strategy, you might as well name your company Rock Bottom Home Staging, because that's where you're headed!
I used to get exasperated by competitors who were so cheap. My staging services were sometimes 5 times their price.
I never did free home staging consultations even though many competitors did, and many potential clients tried to pressure me to do so.
It's important to note that no one "gave me permission" to charge more and not offer free consultations, I made those decisions myself. When you're your own boss, you can do that!
It's not how many staging clients you have, it's how much money you make
Where my home stager competitors needed 100 home staging clients, I only needed 20 to support my family.
While their clients wanted them to stage a vacant bedroom, living room, dining room and kitchen for $1000, I made that much money in a single afternoon from my home staging advice.
Where these home stagers chased their money, I always got paid at the end of an appointment, got deposits for future work, and never had a bounced check.
I even managed to pay off my entire mortgage in only 5 years from my home staging income!
My annoyance disappeared when I realized I was watching my competitors run a race to the bottom of the market.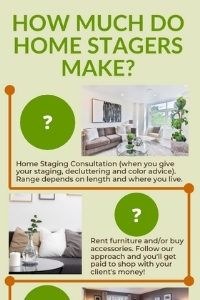 Most of my competitors abandoned their home staging businesses, because they couldn't make any money.
Some of them were extremely talented (at staging and decorating). It didn't matter because they were following a faulty pricing strategy and dead-end business model.
If you're serious about making real money as a home stager, check out my FREE Tip Sheet on How Much Home Stagers Make.
The next time you feel like dropping your price because some other home stager is "giving it away," consider whether you want to be valued as an "expert."
Think about how many individual clients you'll have to find day in and day out when you can't make enough money on each one. Then ask yourself whether you want a home staging hobby, charity or home staging business.
What's your experience with this? Please share in the comments below.