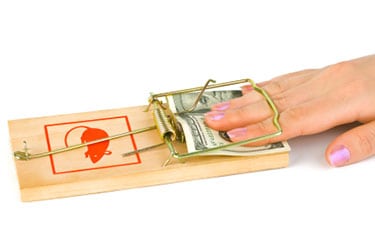 If you're a successful home stager, you've probably already noticed that you can make more money during a home staging consultation than many people earn in an entire week.
These have certainly been the backbone of my home staging business which I started in 2002.
I've done many hundreds of home staging consultations and I've found there are 5 words or phrases that will get you into trouble when speaking with a client.
Here are 5 word or phrase traps to avoid:
1. Free Home Staging Estimate
When you're talking about a home staging consultation, the words "free estimate" should never cross your lips!
This is an absolute trap and one that has put hundreds of home stagers out of business because they get totally burned out running around giving out free home staging advice thinking that's what's necessary.
It's not.
I never go to a client's house unless they've already agreed to pay my home staging consultation fee. I'm able to do this by following a script I use over the phone when a prospective client calls me.
2. Home Staging Guarantee
It is common sense that a well-staged home will sell more quickly and for more money than a home with similar features, location and asking price that shows badly.
However, do not fall into the trap of saying something like, "I guarantee your home will sell faster and for $50,000 more after I've staged it."
Read more about how offering a guaranteed sale can sink your home staging business.
There are simply too many reasons that the sale might not happen quickly or at a higher price, and these are beyond your control.
For example, who knows whether they'll set a realistic asking price in the first place? And what if after you've done a beautiful staging job the client doesn't keep it up for house showings?
But, don't let this worry you about what will happen if a home you stage doesn't sell.
3. Real Estate Listing Price
Don't fall into the trap of stating what you think a home should be priced at, even if your home staging client asks.
That's the job of their real estate agent and any estimate you give could come back to bite you later.
You can say something like:
"I was in a home around the corner recently that had the same number of rooms as yours and it was priced at $699,000. But really pricing strategy is a question for your real estate agent since she has access to all the information about what homes similar to yours have sold for recently."
You can also mention previous projects you've done or that you know of.
For example, I recently wrote about how home staging boosted the selling price of a home by $35,000 in Texas.
It's perfectly acceptable to ask your client at the start of the consultation what their house is listed at if it's already on the market, or if not, ask, "Do you have any idea what price your home will be listed at?"
Knowing the approximate list price will put you in a way better position when making your home staging recommendations.
For example, you might suggest replacing obviously inexpensive light fixtures in a $500,000 home yet ignore them in a home that's $150,000.
4. Junk and Clutter
At least 90% of the homes you visit to do a home staging consultation will have one or more rooms cluttered with junk.
But you'll never hear me use either of these words while I'm in front of a client in reference to their possessions.
What you and I might see as junk might be treasures to your client. The clutter you and I would happily throw in the garbage, or recycle, might be drenched in emotional attachments and sentimentality that you don't see.
Instead, you might say something like:
"I can see that this room is very important to you and that you use it a lot. Now that you're putting your home on the real estate market, it's important that all the floors and furniture be clear so that people can appreciate how large this space is. Besides, you wouldn't want any of your wonderful collection of figurines to disappear during a showing. Here's what I recommend we do . . . "
Here are 7 clutter busting tips for home stagers.
5. My Team Will Do That
If you've been watching the way home staging is portrayed on TV, you'd think we all show up with a team that includes a:
Seamstress to create custom cushions and window treatments
Painter who can paint an entire house in a day
Carpenter who can whip up a wall unit in 2 hours
Electrician to change all the light fixtures
Plumber to replace all the bathroom fixtures in an afternoon.
Home staging in the real world is absolutely not what you see on TV!
It's fairly common to recommend services like painting and repairs during a home staging consultation.
However, you don't want to fall into the trap of becoming a General Contractor which carries potential liability and requires special licensing that you don't have.
Furthermore, why would you want to pay for all these services and then hope that your client will pay you?
One of the joys of running a home staging and interior redesign business (if you structure it right) is that you have no accounts receivables (people who owe you money) because you get paid in advance or at the time of service.
There are plenty of ways to make money on outside services without employing painters, handymen, etc., or having them be your subcontractors. I cover these in detail in Course 5 of the Staging Diva Program, called "Over 30 More Ways to Make Money in Home Staging."
What home staging consultation traps have you found?
I hope you've found this list of 5 home staging consultation traps to avoid helpful.
I'd love for you to comment below on whether you've run into any of these or others that would help our community of both new and established home stagers. Plus, your comments let me know if I'm writing about topics you're interested in!