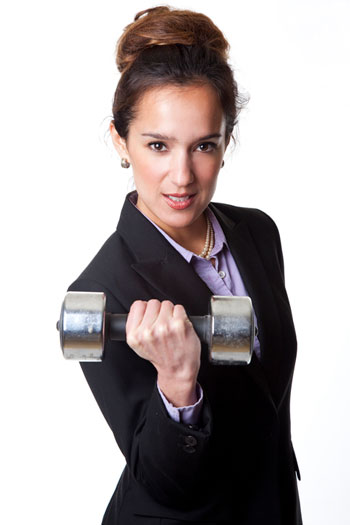 Knowing what the current home staging competition is like in your area, isn't as simple as you might think.
I often hear form aspiring home stagers who say:
"There are no home stagers in my area, so there must not be a demand for this service."
Just as often, I am told the exact opposite by others:
"There are already home stagers in my area. I'm sure there will be too much competition for me to enter this market."
Home Staging Competition, a Reason or Excuse?
In both cases, these notions become excuses for not moving forward and following your dream.
You can talk yourself out of anything with the right arguments or "stories.". Plus, you may be jumping to a whole bunch of conclusions that are not justified.
If you really have a dream of becoming a home stager, you owe it to yourself to verify these negative assumptions before giving up.
No Home Staging Competition in Your Area
If there are no home stagers in your area and there are also no homes for sale, then you're right there is probably no demand for home staging.
You need to live in (or within driving distance of) an actual real estate market for there to be any potential demand for your home staging services.
Too Many Home Stagers in Your Area
I guarantee that your market isn't saturated with home stagers, no matter where you live.
Consider how many real estate agents there are in the same city, town or surrounding area. Compare that to how many home stagers you can easily find.
There are easily 1000 times more Realtors than home stagers.
Then research how many homes sell in your real estate market in a year.
How many of these properties will you have to get as clients to make a living?
An incredibly small percentage if you learn how to price your staging services correctly.  I cover this in detail in Course 2 of the Staging Diva Home Staging Business Training Program.
Is There "Tough" Home Staging Competition?
If you fear there is already a lot of home staging competition in your area, you need to find out if this is really the case.
More importantly, you also need to find out the calibre of the competition.
I don't mean how well they arrange furniture (though this is important). The question is how well they market themselves.
For example:
Do they come across as real professionals?
Does the home stager appear confident and knowledgable?
Can they explain what they do for clients in a compelling way?
Were they easy to find online?
Is the home stager easy to speak to?
Do they listen well?
Could you envision them being easy to work with if you were their client?
Don't just look at their websites and assume all these great qualities if it's a great site.
The competitive picture might look a whole lot different if you actually pick up the phone and speak to them.
There are a lot of "home stagers" who aren't actually serious about their businesses.
It's more like one of their creative hobbies. You'll be able to spot the "dabblers" as soon as they try to explain what they do!
That's assuming you actually reach them by phone. If you leave a voicemail message, I guarantee not everyone will phone you back!
I can't tell you home many times one of my Staging Diva Dialog group coaching members mention that when talking to a potential client the first thing they say is, "Wow, you're the first home stager who actually returned my call!"
And if your "competitors" have unprofessional websites, you've learned you don't need to worry about competition from them. As long as you market your own home staging business the right way.
One of the first homework assignments I have Staging Diva students complete during my home staging courses, is an assessment of their competition.
This is not homework they have to submit for marking. It's homework they should be doing to set up a home staging business. That's why I make it homework.
It's my little way of nudging new home stagers to focus on the tasks that will be the biggest boost to their businesses.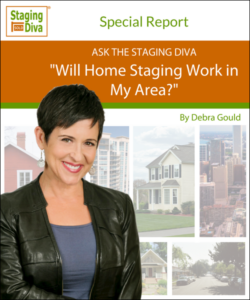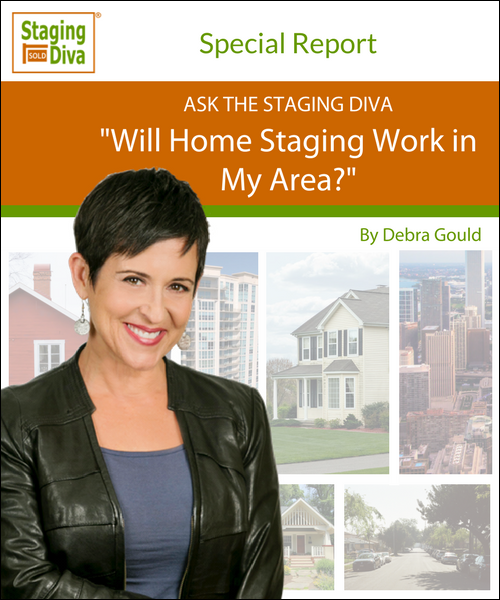 I've taught thousands of students and they consistently discover that the home staging competition is not as intimidating as they first thought.
If you'd like more tips on how to measure the need for home staging in your local real estate market, download this FREE report, Ask Staging Diva: Will A Home Staging Business Work in My Area?
What If the Home staging Competition Looks Tough?
Then you have to resolve to step up to the plate and give it all you've got if you truly want to make money as a home stager.
I've learned from experience over the years that a lack of serious competition can make you a bit lazy. Taking it easy once we've mastered something is a tempting trap.
One sharp competitor and it's amazing how much better you get at boosting your own home staging business!
I always fine-tune my own approach when I review what others are doing. It's important to not spend all your time watching (and comparing against) others though. It's very distracting.
The cool thing is that home staging is a growing industry. The sooner you jump in and establish yourself as THE local expert, the better you will stand up to any competitors coming up behind you.
Home Stagers What's Your Experience?
How has the competition affected your staging business?
If you're just starting to think about home staging, has worrying about the competition stopped you?
Are you a home stager who is holding yourself back because you're intimidated by what other stagers' websites look like?
Please share by leaving a comment below. You'll give me ideas for a follow up story to explore this topic in more detail.