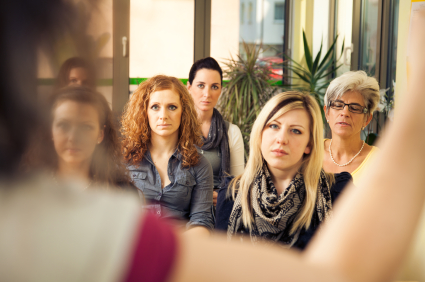 Home staging marketing can take many forms, from expensive advertising and door-to-door postcards (which rarely work), to building a strong Internet presence and looking for ways to reach home sellers and home owners directly.
One way to boost your Internet presence and reach out to potential clients is to give a library talk. This is a simple and no-cost home staging marketing strategy that's been used successfully by many Staging Diva Graduates, like home stager Lisa Liberatore of Brown Butterfly Interiors.
10 Home Staging Marketing Reasons For Your Talk
It's not just about the one-time event. You'll gain at least 10 important benefits from  a simple library talk. Here's what you'll gain:
Becoming known as a home stager and interior redesigner in a community you want to work in.
You become an "event." This means free publicity from the library itself, plus write-ups in the local paper and online (ideally with a link back to your own website).
A deadline to force you to organize your thoughts and portfolio (when you know you're booked to speak you'll be hyper-focused instead of procrastinating!).
A reason to reach out and make contact! Now you have something to invite people to via social media, your newsletter, blog posts, phone calls or emails.
Practice speaking to a live audience.
Another chance to expand your database (one of your most valuable assets as you grow your business over the long term).
The opportunity of meeting a future client in the audience (or being referred by them to someone they know who needs your services).
Positioning yourself as a home staging and interior redesign expert, not only by being at the event, but by talking about it after.
More chance of catching the eye of newshounds (reporters) who will want to interview you for future stories.
Invitations to speak at other events.
If the thought of public speaking scares you, remember you'll be speaking to a very small audience (10 to 25 at most) where your risk of "failure" is pretty low! In fact, you can consider your library talks as practice for a future larger stage, perhaps at a home show. But that's a subject for another article.
What you can talk about at your local library
It doesn't have to be complicated or even a long speech. Actually, the audience will like it better if you have before and after photos to share with them and speak about those. You can also take questions from the audience.
You could explain why home staging works, offer home staging or organizing tips, ways to boost curb appeal, what to do with that spare room when the kids move out, or discuss color in decorating. The possibilities are really endless.
This is not a paying audience. They are there to be entertained and learn something they didn't know before. Many are there just because it's a free local event and they don't want to sit at home watching TV.
In other words, don't feel you have to be "perfect," this will not be a highly critical audience! Just get out there and start talking about what you do. The more you do it, the more you'll feel like a professional home stager!
I share a ton of low- or no-cost home staging marketing techniques like these in Course 4, Staging Diva Sales & Marketing Secrets to Boost Your Home Staging Business as well as in 14 Marketing Ideas to Rev Up Your Home Staging Business.
There is absolutely no reason for you to spend a lot of money on expensive advertising and I say that as someone who used to work for an advertising agency!
Please share your feedback to this story. Did you find these marketing ideas helpful? Have you ever spoken at a library, what was your experience?