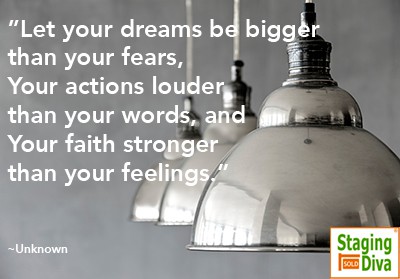 I've been writing about the business of home staging and coaching and mentoring home stagers since 2002.
That was even before I launched Staging Diva as an education and training company in 2005. I was getting overwhelmed by the number of creative and struggling home stagers who were reaching out to me for advice.
One of the most common subjects to come up (when people are being really honest) is fear.
Fear about:
Success (will I have enough time for my kids?) and fear of failure (what if it doesn't work?)
What others may think
Not being creative enough
Leaving the familiarity of what they've been doing (even if they don't like it).
Beneath the fears they mention, there is also the deep longing we all have to use our creative gifts and do work we love. Perhaps you can relate to this? I know I can.
Here is one of my favorite quotes, I wish I knew who first said it:
"Let your dreams be bigger than your fears, your actions louder than your words, and your faith stronger than your feelings." ~ Unknown
That's why it breaks my heart when aspiring home stagers contact me and say things like:
"Everyday I dream of decorating and arranging the perfect house. My friends tell me I should be a real estate agent." (Andrea)

"I eat, sleep and breathe creativity and I work as a server at Olive Garden." (Denise)
Life is too short to let the decades fly by living someone else's life!
There's nothing wrong with being a real estate agent, if you love sales and don't mind working weekends and evenings (often without pay for months).
But being a Realtor won't fulfill a dream of decorating and arranging the perfect house.
Being a real estate agents means putting your energies and time to chasing listings and/or working with buyers and touring them through dozens of properties in the hopes that they'll buy one. Your time isn't spent decorating, because that's not where you make your money when your focus is earning real estate commissions.
Plus, most real estate agents don't make as much as home stagers who are following the right business formula.
There's nothing wrong with being a restaurant server at Olive Garden, or anywhere else, if that's what you want to do. But for someone who "eats, sleeps and breathes creativity" as Denise does, I imagine it would feel soul crushing to spend your days waiting on tables.
Not to mention being a restaurant server pays less than home staging.
These two examples show how often people follow a conventional path for reasons that have nothing to do with their deepest desires for how they'll spend their days.
Often, they've assumed that their conventional choice is less of a financial risk.  Plus, without realizing it, they've made faulty assumptions about the potential of home staging and interior redesign – a career they'd rather have.
Faulty assumptions like:
Being a home stager means I will have to invest thousands of dollars in inventory (you don't need to buy anything).
I will have to quit my job if I start a home staging business (you don't, you can easily do staging on the side).
I should have interior design training (this hasn't stopped me or thousands of successful Staging Diva students).
I won't be in control of my schedule (you'll actually have way more control than working for an employer or being a real estate agent).
My mission is helping creative people earn a living doing what they love. That's why I focus on the business side of home staging and interior redesign.
Perhaps you're insecure about your natural talent. Who isn't? I still get nervous before I go to a new client's home, even though I've been doing it since 2002.
I still have that little voice in my head that says, "What if you don't know what to do when you get there?" The fact that this hasn't happened in hundreds of homes doesn't stop that critical voice in my head that would shut down my dreams if I let it.
Here's what helps me and I hope you can use it too. Everyday I ask myself:
"Am I going to be more loyal to my dreams or my fears?"
Wishing you every success in your staging business, and this bigger thing called life.
What do you think?
Please share in the comments what your biggest fears are, or how you've dealt with them. Or share what assumptions you've made about home staging that are stopping you from getting started. Then I can address these in future articles!