Many Staging Diva Graduates start out as part-time home stagers because they simply can't afford to leave their job right away. This option works great for many people who are able to decide eventually whether they're making enough money to warrant quitting that day job or if they just enjoy the flexibility of part-time staging and the extra cash it brings.
The biggest benefit of being a part-time home stager is that you can easily book your appointments around other commitments. You can fit in consultations around when you have childcare or on your days off. Also, because part-time home stagers are working around another job or certain lifestyle (stay at home mom or retiree for example) there's the beauty of being able to work as much or as little as you want.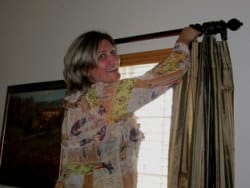 Staging Diva Graduate, Anna Dovger, operates her Texas home staging business, Add Value Home Staging, around two other businesses and a family. She operates her staging business part-time but she's passionate about promoting it and getting her name out there.
This spring, Anna decided to become an exhibitor at a local Home and Garden Show (something most full-time stagers never pursue!) and that was a move that really paid off.
In the five year history of this twice-yearly show, Add Value Home Staging was the first staging business to exhibit!
Anna built her 8×8 show space herself and cleverly turned it into before and after rooms to show exactly how home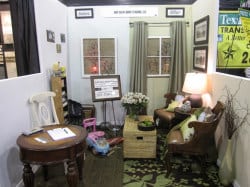 staging works. She received many compliments about her booth and the event went well for her – she got leads from homeowners interested in staging to sell and from those wishing to use her services to decorate their existing homes. She also met several local real estate agents who took away her business cards with them. What an ideal way to position herself as the expert stager in her market!
This is a very energetic endeavor for a part-time home stager to pursue, but Anna writes, "Even though I was tired I felt inspired and proud of myself. I booked appointments right at the show! I'm working on my newsletter that will be sent regularly to those who stopped by my booth as they're now on my mailing list. I am a strong believer that home staging is needed and that it works. Even though things may be slow, it will pick up and the business will grow. I won't give up because I know staging works and that it is needed!"
About the Staging Diva Home Staging Business Training Program, Anna says, "The program motivated me a lot and pushed me forward. It was very informative and easy to follow. I also find Staging Diva Dispatch is very helpful and keeps me going."
See, just because you're a part-time home stager doesn't mean you're focusing your energy on a hobby! You can certainly grow a successful home staging business on a part-time basis. It all depends on what you put into it!
If the economy is still holding you back from starting your staging business, even on a part-time basis, I encourage you to download my free economic report for home stagers, Ask Staging Diva: Can I grow a home staging business in a depressed economy? I know it will rest some of your fears.
Part-time home stagers, I'd love to hear from you! Did you start staging on a part-time basis around a more profitable job? What did it take for you to transition to staging full-time? Please share your unique experiences by leaving a comment below.
Debra Gould, The Staging Diva®
President, Six Elements Inc. Home Staging
Debra Gould knows how to make money as a home stager and she developed the Staging Diva Training Program to teach others how to earn a living doing something they love.
[tags] home stagers, home staging, home staging business, home staging course, home staging program, staging diva[/tags]