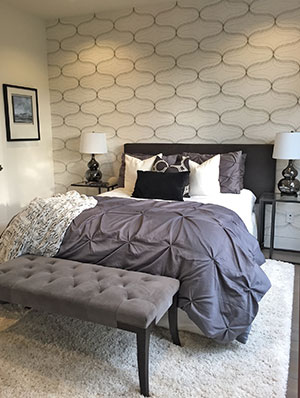 I toured a beautifully staged home that went on the real estate market today. Brand new, never lived in. This smart builder knows home staging is important.
The asking price, just under $2 million.
Now in many cities that amount will buy you a grand estate with lots of land. Not here. Even old "tear downs" go for close to $800,000.
At the $2 million price range, it's clearly not a starter home.
And it's definitely the most expensive house on the street. Newly built and surrounded by homes from the 1920s, with a few that were replaced in the 1970s or 1980s.
I describe it as a "family home" because it's in a very residential neighborhood, close to coveted public elementary, middle and high schools.
Plus it has 5 bedrooms.
Almost every house for blocks around has young kids and there's a large playground and community center in easy walking distance.
Do you have a mental picture of the likely buyer for this staged home?
I'm imagining 2 or 3 kids ranging in age from 7 to perhaps 15. Old enough that the family has traded up in homes once or twice already (and their careers are established enough for a $2 million price tag).
Yet young enough that they still want to live in a family-oriented neighborhood with good schools in walking distance.
This mental picture of the target buyer for a home is critical when you're going to decorate it to sell.
Our goal as home stagers is to literally "set the stage" for a buyer to fall in love.
To feel like they've walked into their next home, not someone else's house.
To imagine themselves living there.
To project their hopes and dreams into the environment.
We stage a home so potential buyers will remember it even if they've seen 6 others today.
And most of all we want them to feel like they should write an offer before someone else buys it first. 
In other words, we try and trigger that Fear Of Missing Out (FOMO) sensation!
Which brings me to what was wrong with this beautifully staged home.
Every single one of the 5 bedrooms looks like some variation of the one I've shown you here. This one isn't the master bedroom by the way.
How many adult bedrooms does one house need? Especially when you're imagining kids living there?
I listened to the comments of people at the open house. With every room, someone would say, "Is this the master bedroom?" Or, "No, I think this is a guest room because it's not large enough to be the master."
You see, buyers don't have a lot of imagination. If they don't see kid's rooms, they don't picture kids living there.
There was absolutely nothing in this house to tug at the heart strings of a parent, except for the gleaming kitchen with tons of counter, cabinets and new appliances. Or perhaps the high ceiling basement with built-in bar and room for a huge big screen TV.
There was nothing to excite the kids who may be touring the house with their parents. I can't imagine any kids running into one of those rooms squealing, "Can this be my room?"
In fact, it was all so perfectly grown up and proper, I'd imagine any kid waiting for a stern parent to say, "Don't touch that!" in every room and never saying to Mom or Dad, "Let's live here!"
There was a lovely deck off the master bedroom on the top floor. They furnished it like an outdoor living room. Sadly, the deck of the identical house the builder is putting next door was only 12 inches away. Both with glass side panels so there was absolutely no privacy. Not only would you hear every conversation your neighbors had, you'd be able to see everything. I would have at least lined one side with large plants in pots, or a screen of some type.
Bottom line, put yourself in the mindset of your prospective buyer. Show them how they'd live in a space. When every room looks like it's straight out of a magazine, but wouldn't fit the lifestyle of the family living there, the staging is not nearly as effective as it could be in my opinion.
By the way, with so many bedrooms I think a smaller one could have been staged as a home office or hobby room. I definitely wanted to see a teenager bedroom and a couple of child-like bedrooms. In some cases the furniture could have remained the same, switching out the bedding, lamps, art work and a few stuffed animals would have done the trick.
What do you think? Please share in the comments below.
Debra Gould, The Staging Diva®
A home stager since 2002, Debra Gould created the Staging Diva Home Staging Business Training Program in 2005 to help others make a living from their creativity. Debra is the author of 5 guides including the Staging Diva Ultimate Design Guide: Home Staging Tips, Tricks and Floor Plans.