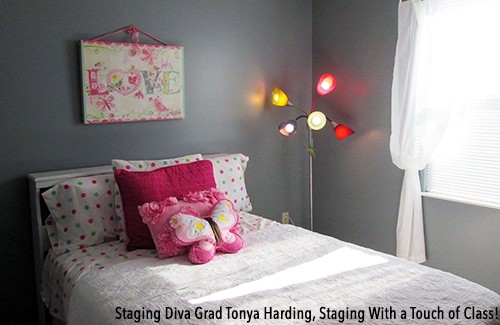 Home buyers have less imagination than you might think. That's why home staging can make such a difference in the selling price of a home— and how long it takes to sell.
Most people aren't able to look past ugly, crowded and disorganized rooms.
They won't notice that the missing dining room is actually masquerading as a family room, in the short 5 minutes they might spend in a house.
Your job as a home stager is to lead a buyer down the garden path of how a property can look and show them exactly how they can live in it.
When you're hired to stage a property, you need to be careful not to assume that the rooms are already furnished for the right purpose. In a house with few bedrooms, most buyers won't look past a desk and imagine a bed.
What you do with a "spare" bedroom can have a huge impact on how the house does in today's real estate market.
3 Home Staging Tips
Add a bedroom
I once staged a house that had only two bedrooms, and one of them had dark paneling, no closet and was set up as a home office.
Consistent criticism after showings told the homeowners that it was being perceived as a one bedroom house. For staging, I took out the desk, put in a bed and turned it into a guest room. The house sold within days.
Add a child's room
It is particularly important for home stagers to pay attention to whether or not a home might be a popular choice for young families. (This is where knowledge of the local real estate market comes into play.)
If a home is in a family-oriented neighborhood and the existing owners do not have children, you will need to transform at least one existing bedroom into a child's room.
When a couple with a young family walks through a childless home, it's hard for them to imagine how their own family will live there.
Are the bedrooms appropriate for their kids?
Where will they play?
A home stager should always keep the target market of a house in mind when staging. This helps paint a picture for the potential buyer by staging the house the way it would be lived in by them. With minimal furnishing and a few props it's easy to show a child's bedroom!
Disguising a small bedroom
If you're staging a 4 bedroom home with an exceptionally small room that doesn't have a closet, consider styling that room as a craft room or home office. Home buyers would only see how tiny it is and that could put them off.
If possible include a love seat with end tables and lamps so buyers will envision it as a fold out bed. This will help them visualize how the room can double as a guestroom.
The important thing to remember is that home buyers are in a house very briefly and they won't work hard to imagine how they can change everything around themselves.
When they go to a showing, they want to picture themselves living in that home. With good staging, they don't have to imagine their lives there; they should already feel like they're home.
That's what sells homes faster and for more money.
What have you done to stage spare bedrooms? Please share in the comments below.

Debra Gould, The Staging Diva®
President, Six Elements Home Staging
Home Staging expert Debra Gould developed the Staging Diva Home Staging Business Training Program to help others make money in home staging. She is the author of several guides including the Staging Diva Ultimate Design Guide: Home Staging Tips, Tricks and Floor Plans.