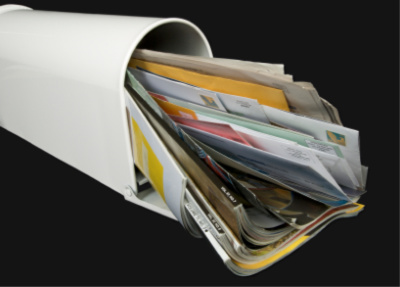 When you're running your own home staging business, you have to be really careful about how you spend your limited home staging marketing funds.
Hopefully you haven't already gone out and spent lots of money printing fancy color postcards or flyers and paid for door-to-door delivery.
These are largely a waste of money and here's why:
Your home staging marketing postcard is arriving in the middle of a bunch of bills and other mail.
Most people stand over the garbage or recycling box as they go through the stack.
While your home staging postcard is beautiful to you, it's pretty much "junk mail" to more than 99% of the people who receive it.
Home staging marketing is most effective when directed at the right audience
If homeowners even notice your postcard in the pile, consider that most of them have no immediate need of your services.
Only 10% of the population is moving at any given time. And of those who are, ask yourself, how many of these people:
Own the house they're moving out of? In other words, would have any vested interest in home staging services.
Understand that they a need for a home stager to help them sell quickly and for top dollar?
Door-to-door flyers typically go out to thousands of homes at a time. That's because direct mail gets less than one tenth of one percent response rate when you're doing well!
In other words, with a distribution quantity of 250, an effective postcard would only generate 25% of a single person, in other words, no one!
What to do with your home staging postcards
If you've already made the "mistake" of printing 250+ postcards and delivering them door-to-door, and you get a single phone call from it, consider it a "huge success." Given the odds, it would be 400% more successful than one would expect!
Please, don't sit at home waiting for the phone to ring and home staging projects to come pouring in from this one marketing endeavor. I've been a marketer since the early 1980s and an entrepreneur for almost 30 years. I know what I'm talking about from experience and tons of training.
If you've already printed postcards and haven't sent them out yet, consider alternatives to delivering them door to door.
For example, you could:
Save your postcards to hand out at targeted events.
Mail them to people you already know will be interested (rather than doing a mass mailing).
This will help you get more impact from the money you've already spent. 🙂
Home Staging Marketing Resources
Before wasting your money on expensive tactics like advertising and direct mail postcards that don't really work, why not find out the many smarter (and often FREE) ways to market your home staging business?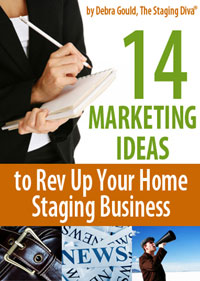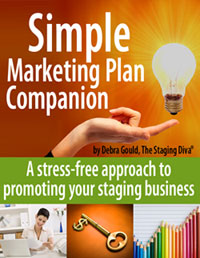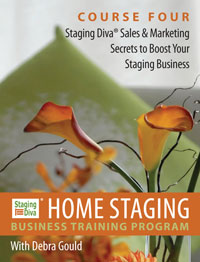 You can learn effective home staging marketing strategies in Course 4 of the Staging Diva Home Staging Training Program, Staging Diva Sales & Marketing Secrets to Boost Your Home Staging Business.
During two hours of audio recordings you'll learn tons of no-cost marketing tactics you can use that will get you guaranteed results and boost your home staging business.
Other resources I've created to help you with your home staging marketing include: "14 Marketing Ideas to Rev Up Your Home Staging Business" and the "Simple Marketing Plan Companion: A Stress-Free Approach to Promoting Your Staging Business".
Learn About Marketing Resources Here
Readers, have you used marketing postcards for your home staging business? How did you use them and what results did you get?