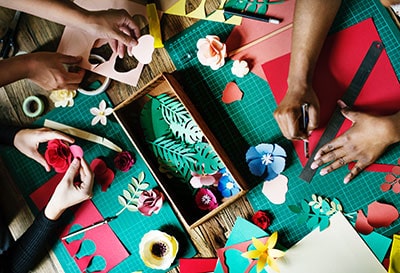 So many studies of people in their last years say that one of their deepest regrets is for the paths not taken.
That one day they woke up and it was too late to become what they might have been.
I think that's a tragedy because we really have only one life and it should be ours. Not lived purely to make everyone else happy or satisfy their opinions of who we are.
Do you find the months racing by and you are no closer to your dream of a home staging career where you get paid for your decorating and home staging talents?
It's so easy to let our hobbies, chores and other stuff get in the way. Perhaps you have your own version of Kelly's story. She gave me permission to share her email with you, along with my advice. Kelly writes:
I've REALLY enjoyed your free Home Staging Jumpstart Course. I read through all of the 12 tips you sent and clicked on many links to articles you have written. I'm very inspired.

I plan to enroll in the complete Staging Diva Home Staging Business Training Program at some point this year; yet, I'm prioritizing a few things that I want to get done first for myself.

I have more than 5 dozen photo albums from when my kids were growing up. These albums are taking up way too much room so I pulled all the pictures out; had them scanned and am now creating slimmer digital (printable) scrapbooks to give to my kids so that they will always have these memories.

This effort was actually my initial personal endeavor in home staging believe it or not!

By making room in my closet and bedroom, I will be able to dress up those areas with a lot less clutter! As I work to declutter my house I am going to take before an after photos to start putting my home staging portfolio together for when I start my staging business.

So, as soon as I finish (or make a huge dent) in scrapbooking those memories, I am going to invest in your Staging Diva Home Staging Business Training Program. My goal is to begin by Christmas.

In the meantime, I look forward to continuing to read more through you. I appreciate all of your insights and I'm very excited to become a Staging Diva Graduate one day soon.
My advice if you want a home staging career
I'm sharing my advice to Kelly in the hopes that you don't let a bunch of projects get in the way of getting on with your bigger life dreams.
Thanks so much for sharing your story Kelly! I'm so happy that you've been enjoying my free tips and articles! Imagine what you get when you're part of my Inner Circle?!

One thing I will advise is not to wait for everything to be "perfect" before you start putting the basics into place for your home staging career. There will always be something getting in the way when you let it.

Right now you're thinking "Christmas", I wonder if as December rolls around you might be thinking, "Oh there's so much to do for the holidays, maybe I'll wait until the new year…." and on and on it can go.

I'm not saying that WILL happen in your case, I am saying I've seen it many times before.

Many of us wait years and years thinking there will always be some magic window 3 or 6 months in the future, where we have NOTHING else to do but focus on our dream of a home staging career.

That's not realistic, because there will always be others things coming up and filling the time, when we let them. That's just how life goes.

While you're scrapbooking or cleaning your closets, you could also be listening to the Staging Diva Home Staging Business Training Program course recordings. Meaning that you're getting your immediate projects done while also laying the foundation for your big life dream of starting and growing your home staging career.

You'll find that while you're being creative scrapbooking and organizing, the stories you hear in the audio recordings will spark creative ideas for your home staging business.

It's interesting what happens when we activate the creative side of our brain, it feeds our creativity in other ways!

For example, when I took a Stand Up Comedy course at Second City as a hobby, I found that having to write the material for my first performance made me immediately burst with ideas for home staging articles.

And when I'm doing a home staging consultation in a client's home, I often find that while I'm solving what to do in one room, the solution for what to recommend in another pops into my head.

Thanks again for writing and I'm looking forward to helping you on your journey of starting and building a successful home staging business.
I didn't share my actual Stand Up performance video with Kelly in my email back to her, but if you're curious, here it is! Creatively satisfying writing and performing it, but also WAY out of my comfort zone!
(If you're not hearing the sound, turn up the little volume button on the far right bottom of the video once it starts playing.)
Key Take Aways for Aspiring Home Stagers
I hope you'll realize from my exchange with Kelly that:
There is rarely a perfect window of time to take a course where every other demand in your life stops.
Your creative talent is a gift that could be used to earn a living, as well as take on satisfying hobbies and projects.
How you choose to spend your time is up to you. If you say no to one thing, you open up room for something else. For example, if you cut out Facebook and TV for a week, you'd have enough free time to listen to the entire Staging Diva Home Staging Business Training Program.
Creativity is like a muscle. The more you exercise it the stronger it gets. As you use your creativity you gain more confidence in it and it gets easier and easier.
Because Staging Diva students own the course recordings when they buy the Staging Diva Home Staging Business Training Program, they can listen, pause, rewind and re-listen as often as they like — even while doing other things like scrapbooking, cleaning, driving, exercising, etc.
Let's Keep the Conversation Going
Do you have a hobby or special project that seems to eat up all your time or that you use to procrastinate getting on with the thing that's a bigger (and perhaps scarier) goal? Or do your creative projects feed the other areas of your life? Please comment if you can relate to this article and share how you free up time to do the things that are most important to you. I know you'll inspire others!

Debra Gould, The Staging Diva®
A home stager since 2002, Debra Gould created the Staging Diva Home Staging Business Training Program in 2005 to help others make a living from their creativity. Debra is the author of 5 guides including the Staging Diva Ultimate Design Guide: Home Staging Tips, Tricks and Floor Plans.
Hobby photo by rawpixel.com