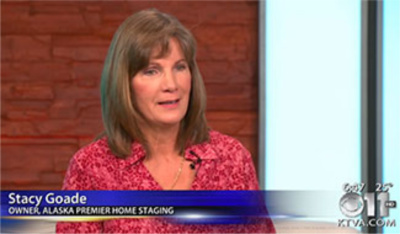 As the Staging Diva Home Staging Business Training Program celebrates it's 10th anniversary, I've been catching up with many of our Graduates to see how their home staging businesses have grown.
Stacy Goade of Alaska Premier Home Staging celebrates her 5th year as a home stager this month so I asked her to share some of her latest business highlights.
These will inspire you with ideas for your own home staging business, and let you see what is possible when you follow the home staging business formula I've laid out in the Staging Diva Home Staging Training Program.
This year Stacy completed 38 separate projects from her home base in Anchorage Alaska. These included 33 home staging projects and 5 redesign projects.
She's earned every bit of her success because she kept at it and employed so many of the business strategies I recommend. From refining her pricing strategies, to fine-tuning her online presence, and getting media coverage, to hosting free talks in various locations to position herself as a home staging expert.
Home staging is more than a way to use your creativity to help people. It's an outstanding way to earn a great income while being your own boss.
Home Staging Income
Stacy gave me permission to share publicly that she earned up to $7,000 in a single month from her staging business in Anchorage. How awesome is that?
To give you an idea of how that breaks out on a project basis, Stacy made $2,480 staging a vacant luxury home priced at $950,000. Now this sales figure doesn't include rental furniture because Staging Diva Grads don't purchase their own inventory.
That's $2,480 in earnings for her time, not an inflated sales figure that includes rental fees.
She also earned $2,535 assisting a retired couple completely de-clutter every room in the house before staging and listing. Each phase took 3 to 3.5 days to complete.
So if you do the math, that means she made somewhere between $422.50 and $362 per hour for her time! How is that possible? It's all covered in Course 2 of the Staging Diva Home Staging Training Program.
Stacy earned a referral fee of $795 recommending a professional paint company to one of her home staging clients. This is a strategy covered in Course 5 of the Staging Diva Training Program, "Over 50 More Ways to Make Money in Home Staging."
There are many ways to boost your home staging income and I share them all in my training. It's high time women (especially) started to earn what they're worth!
Home Staging Media Attention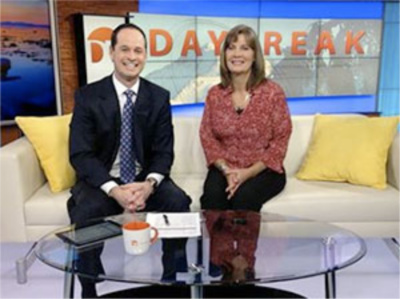 My students learn how I got media coverage for my own home staging business in CNN, Wall Street Journal, MoneySense, Women's Day, Style at Home, CBS radio and more. It's such a great way to build your reputation as an expert home stager and get known by a wider audience.
Plus it's totally free and gives you much more credibility than running a paid ad.
Stacy adopted my strategies and her media coverage includes an appearance on the CBS Morning News in Anchorage, for a feature story "Home Sale Season Tip: Home Staging."
She has also been featured twice in Alaska Home Magazine, "Staging for a Speedy Sale" and more recently, "Resale Redo."
And in an unusual media twist, Stacy was hired by the First Alaskans Institute to stage their "stage" for the Elders & Youth Conference broadcast on statewide TV.
Stacy says:
"My website continues to be my #1 marketing tool; bringing me home staging jobs but also opportunities. I just finished interviewing for my 3rd magazine article last week for an Anchorage magazine called 61 Degrees North. The article will be released next month.

I've traveled to 3 different Alaskan communities where I held 7 free home staging workshops. I created a Power Point presentation that I tweak for each workshop. My event has been held in a Title & Mortgage Company, a library, a coffee house with a community meeting room, and a privately owned Senior Living complex. Thanks to the Staging Diva special report, 14 Marketing Ideas to Rev Up Your Home Staging Business which I used as my guide for this business strategy."
On one of our monthly group coaching Staging Diva Dialog calls, we talked about the unusual things you can run into as a home stager. Stacy mentioned that she was about to start a project for a home seller who had 21 cats. I remember saying, "Ah yes, the crazy cat lady. Those projects can be a challenge!"  So I was delighted in our interview this week to learn the results!
Her "crazy cat lady" (my term, not hers!) house had been on the real estate market for a full year.
During the home staging consultation she discovered the seller had 21 cats and was not open to kenneling them off-site while the property was on the market. In spite of that, the house sold in 10 days after Stacy staged it. That's an incredible outcome for a home that had been on the market for a full year and the obvious challenges of that many cats. Talk about proof home staging works!
Stacy concluded our interview by saying:
"All of these successes are a result of carrying out your ideas and recommendations. The business model used in the Staging Diva Home Staging Training Program and all the training materials, resources, monthly Staging Diva Dialog calls, and our annual one-on-one coaching calls. Staging Diva offers a wealth of materials and is the reason my self-confidence and self-assurance have blossomed these past 5 years. Because you have done all the necessary work!"
I want to thank Stacy for candidly sharing her results and allowing me to share them with you. Too many people are afraid to talk about money or business specifics. I think we do ourselves a disservice when we're too secretive. We should be proud of our accomplishments. Plus, in sharing them we allow others to see what's possible for their own lives.
Please join me in celebrating Stacy's success by sharing your comments below. Also, if you'd like to share your own Home Staging Success Story, please see this easy-peasy process I've created for you. I'd love to give your home staging business some free publicity too!
Editors Note: Stacy later decided to retire from home staging after her husband was transferred to a remote location in Alaska. She had her business for many years and tells me she will always look back at that time as a creative and profitable adventure.