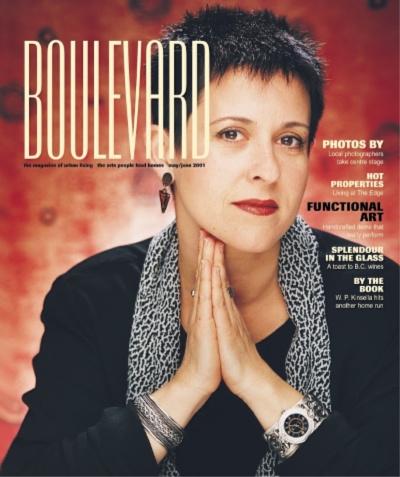 How to get media attention for a home staging business has been a hot topic lately.
Recently after writing about 3 Staging Diva Graduates featured in staging stories in Kenosha, Nashville and Chicago newspapers, a home stager in Alaska wrote that she was having trouble getting local papers interested in writing about her.
Here are 5 tips to getting media attention for your home staging business:
1. Remember that YOU are NOT the story!
The local media really don't care that you just opened your own home staging business unless you are writing to the editor of a local paper who has a column specifically for this purpose.
Some community papers have columns about new small businesses, stores, restaurants, etc. in the area, and approaching them is quite effective.
My first coverage as a home stager was from a press release I wrote (that was used word for word) in an "Eye on Business" column for a neighborhood paper, Beach Metro News.
I knew that particular column functioned partially as a cheering section for the neighborhood. So I deliberately played that up in my press release.
"Maybe it's my MBA training," says Debra Gould, "but I really take a bottom line approach to decorating a home, especially if it's with an eye to resale." Gould is a professional 'house fluffer,' one of those people who can come into your home and provide you with a 'laundry list' of things that can be done to spruce your home up when you decide to put it on the market.

Her company, Six Elements, provides color consulting services tailored to her clients' budget and do-it-yourself experience. In this hot Beach real estate market, she could be the person who could help garner top dollar for your home— and in a hurry. "My guiding principle in any house fluffing project is determining which efforts will make the most significant difference in the actual sale of the home."

Gould, herself, just returned to the Beach area from a four-year creative exile. "Sometimes you need to get away for awhile to really appreciate what you've left behind," she said. Call Debra at …, or visit either of her two web sites at …. and take advantage of her return to the Beach."
In case you're wondering, in those days (and in that city) "house fluffer" was a term used more often than "home stager." That's why you'll see that reference in my press release.
2. Write a press release that has a timely news angle.
To increase the chances of your press release getting picked up, tie in with something that's already in the news or is especially timely.
For example, an accountant could get some coverage with tax saving tips from a press release was sent out in March/April. The same release would be ignored in July.
Similarly, as a home stager, color consultant and interior redesigner, there are obvious seasons where your tips in these different areas would be most useful and interesting to readers.
3. Find ways to make an editor or reporter's job easier.
Budgets are tight so everyone in the media is working harder. Reporters have to blog, tweet, etc. on top of what they did before. They have more content to write, tighter deadlines and less time for research.
Don't be intimidated and think they're doing you a favor by writing about you. Approach the whole task of getting media coverage with a more useful mindset.
The media needs new and interesting content every single day! You're doing them a favor by providing it!
This in no way means you should approach them with arrogance or hint that they owe you some coverage. Either of these attitudes will get you absolutely nowhere!
First you need to do your homework.
Read the publication you're thinking of approaching. Notice who the reporters are that write about the kinds of topics you have knowledge in. Then approach them directly with a story idea that fits their topic and style. Approaching them is so much easier to do than in the past because you can often find their email addresses on line.
Another way to get a reporter's attention is by adding meaningful comments to blog posts of his stories.
This has a side benefit of letting you link to your own home staging website! If you don't have a website, and you're a Staging Diva Graduate, make sure you join the Staging Diva Directory of Home Stagers so you'll have a professional Internet presence.
You can also approach an editor, again with a personalized approach.
I landed a feature story and was on the cover of Boulevard Magazine after I approached an editor with a story idea. To improve my chances, I also provided a list of all the sources they'd need for the story!
I had been reading the magazine for a year and I knew what kind of story they'd like and pitched my idea that way.
Unless you fit with their editorial style and target audience, there is no way they'll cover you.
4. Don't be afraid to give away your home staging expertise.
Some home stagers mistakenly believe that if they put too many of their tips and ideas into articles, blog posts or press releases that no one will hire them because they'll do the work themselves based on that advice.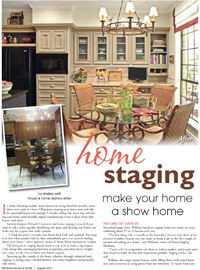 The way you prove that you're the right person to hire is by showing you know what you're talking about.
A potential client will be inspired to reach out to you when they are impressed with the quality of information and portfolio photos you've shared with them in advance.
Because I wasn't afraid to share free home staging tips on my website, Michiana House and Home Magazine contacted me and ran my top 10 home staging tips in their August issue!
You'll find more examples of my media coverage here.
5. Have a strong Internet presence that positions you as an expert.
Reporters work on tight deadlines. The easier it is for you to be found, the easier it is to get media coverage.
Other than my very first press release to the local community paper, all my other media coverage has come from them seeking me out. I have not chased media attention at all!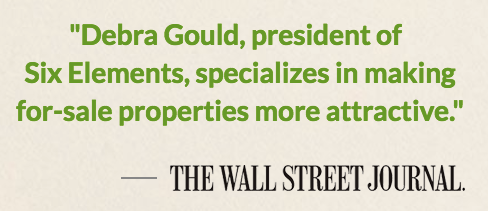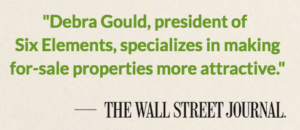 My absolute best day was when I spoke to The Wall Street Journal in the morning for a front page feature in their Home Section on insider secrets that I use to stage my own homes to sell.
I was just walking in the door after picking up my child from school that afternoon and ran for the ringing phone to hear, "Hi, this is Les Christie from CNN, I'd like to interview you for a story."
At first I thought it was a prank, how could CNN want to talk to me, let alone on the very same day as The Wall Street Journal?!
Now you could say I was just "lucky." Let's face it, there are thousands of other people either one of them could have called.
I believe in making my own luck and I don't think it's a coincidence that I had just started 3 blogs the week before and I already had a website for my home staging business with a ton of content at that point!
There is much more on how to get media attention in my Staging Diva Home Staging Business Training Program. That's why so many of our students and grads have also appeared on TV, newspapers and in magazines.