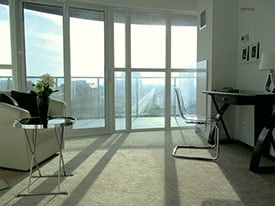 Home staging is a great cure for awkward rooms, especially the ones you find in many of today's condo projects.
You know those tall towers with the weird jutting out points encased in glass? They might make the building look interesting (or fit it into an oddly shaped lot), but what are the owners or sellers to do with all those narrow triangular rooms?
This home staging project by Staging Diva Graduate Nataliya Mitt of Toronto's Pro Staging and Design shows how just a few items can make all the difference.
Her client's condo had been on the Toronto real estate market for 8 months without a single offer. There were a few reasons, first of which was that there were many for sale by the same builder in the area at the same time (as so often happens with new buildings). Another key problem was the third room has a questionable shape. Natalyia describes it as a "triangle with one round wall." Lastly, the condo was vacant so it just didn't look enticing on MLS or when potential buyers came to visit.
Before home staging, potential condo buyers couldn't understand the space
It's hard to imagine what to do with a tiny triangular room and with new condos being so tiny, a wasted room is a real turn off to condo buyers. So after sitting on the market for 8 months the owner hired Nataliya for his home staging.
Despite being listed at a slow time of the year, and having lots of other condos to compete with, he actually succeeded in selling the Toronto condo within 3 months of Nataliya's staging.
One of the things that made this home staging project unusual is that the client decided they wanted to buy the home staging furniture rather than rent it because they weren't sure how long it would take to sell their condo. It all worked out even better than expected when the buyers paid extra to keep the furniture as part of their condo purchase!
Natalyia says, "In making the decision to stage this apartment, they didn't lose any money. They quickly got their selling price plus additional money to pay for the staging by selling the furniture in it."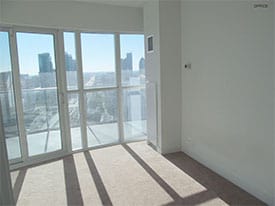 Prior to home staging, the real estate agent only showed two photos of the vacant condo on MLS. After staging, new listing photos attracted potential buyers because they could actually see the whole potential of the condo.
The whole design was done in light sky/azure tones and beaches mood colors. It brought the right vacation/resort appeal and buyers could imagine themselves living there, says Natalyia. She carefully selected all the furniture to show enough flow throughout the space.
Natalyia says, "Even having Architectural and Interior Design Degrees didn't help me figure out the first steps to start my home staging career, or how my business would run.  The Staging Diva Home Staging Training Program helped me proceed successfully, and more importantly, feel confident that I was doing it right."
Thanks to Nataliya Mitt of Toronto's Pro Staging and Redesign for sharing this home staging of an awkward condo space. If you'd like to see one of your projects featured, simply complete the information at this page so I can share your staging story.
This is one of close to a 100 articles I've written that prove home staging works. My aim is to educate the general public, real estate agents, and of course home stagers about the power of staging to sell real estate quickly and for more money.
Feel free to link to any of these articles in your own blogs, or on Facebook, Pinterest, Twitter, etc. to help spread the word. You'll be doing your potential clients a service by showing them that home staging can make all the difference in the sale of their home. Even if the article is talking about a property in another city, it doesn't matter. You're the local home stager they'll hire once they understand the need for your services. No one wants their home sitting on the market tying up their capital and keeping their lives on hold.
Internationally recognized home staging expert Debra Gould is President of Six Elements Home Staging and creator of the Staging Diva Home Staging Business Training Program. An entrepreneur for almost 25 years and author of several guides, Debra has staged millions of dollars worth of real estate and uses her expertise to train others worldwide.