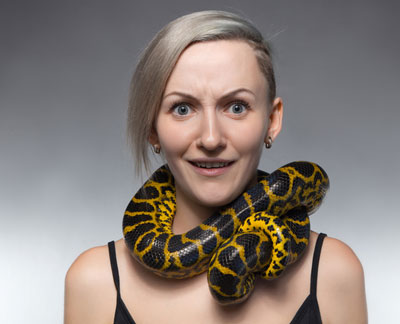 I recently wrote an article about how to pick the target home buyer for your staging project.
It's a process I use as a home stager to develop a clear mental picture of who the likely target buyer is for a home before I make my home staging recommendations.
Home stagers, have you ever been surprised by who actually bought a home you staged?
This home staging project was for a client who was living oversees.
Her home was in a neighborhood I knew well, because I lived only a couple of blocks away. It had been occupied by tenants for several years and she was finally ready to sell.
I took on staging the vacant home once the tenants moved out, so I really had a pretty blank slate to work with furniture-wise.
But it wasn't entirely a blank slate because the house had some unusual features that would have been too expensive to change.
I'm being kind.
They were actually weird features to my eye as a home stager, and as someone who has bought and sold 9 of my own homes.
Weird House Features Influence Who Might Buy
These "oddities" heavily influenced my mental picture of the likely home buyer. For example:
Kitchen counters and cabinets above standard height. Great for a very tall man, impractical for the average woman.
Glassed-in "reptile room" between the kitchen and dining room.
Only 2 bedrooms despite being located in a family neighborhood of 3 and 4-bedroom homes.
Stairway to the second floor had no risers, and a custom wrought iron railing that a child would easily fall through.
No door to the master bedroom and nowhere to add one.
Master bedroom had an ensuite bathroom with no door for privacy.
Tiny second bedroom opened out to a second-floor deck that a child could fall from.
Who I Imagined as the Home Buyer
Given these factors, I expected the home to be purchased by a single person (likely male) or a couple with no kids (and no immediate plans to have any).
With that assumption (discussed and agreed to by the owner and the real estate agent – a key point as you'll see later), I staged the tiny second bedroom as a home office.
I figured, who would want a child or a guest just down the hall from the master when there was no door to the master bedroom?
And wouldn't the deck be a nice feature for a home office?
After a couple of weeks on the market, the feedback from showings was that it was a one-bedroom house, which lowered the perceived value of the property.
It was properly listed as 2 bedrooms on MLS, but that didn't matter to potential buyers.
At the request of the real estate agent, I redid the 2nd bedroom to replace the extra home office furniture with a single bed, and rearranged the original desk and chair.
Yes, I was paid for my time to make these changes.
We had all agreed on the staging strategy at the outset, so I felt no responsibility to make these changes for free.
Potential Home Buyers Lack Imagination
You'd think potential buyers could see that a single bed would fit without actually staging the second bedroom with one, but they couldn't.
Proving you should never over estimate the imagination of potential buyers!
With two beds, house hunters believed it was a two-bedroom— just like it said in the listing. Another example of how and why home staging works.
Sales Results From Home Staging
The property sold a few weeks later— the only two bedroom house in that neighborhood to sell in an 8-month period. Given that, it was a very good result as far as the real estate agent and seller were concerned.
The real kicker for me was that a single-mom with a 4 year old bought it! I still think she bought the "wrong" house for her needs. But we've never met, so who knows?
Perhaps she was freakishly tall with a snake collection that had grown too big for their cages. Maybe her child was afraid of heights and cautious around stairs. And she had no plans to ever date again?
Home Stagers, Jump In With Your Examples!
Have you ever found the architectural features or finishes in a house strongly suggested a likely buyer? Did the actual home buyer ever surprise you? Please share in the comments below.