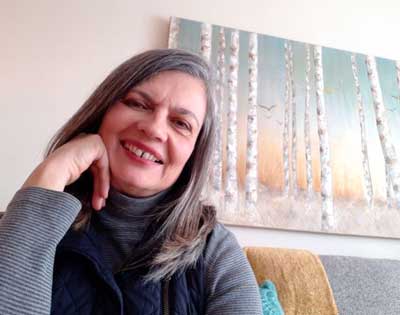 There are many paths to a home staging career. Many home stagers come from completely unrelated prior careers like nursing or financial services.
Others, like Catherine Menard of Groovy Chick Redesign and Home Staging (Ontario), take a previously creative and visual career and turn it into something new.
Catherine writes:

"My passion has always been in decorating, designing and working with color. Many years ago, I graduated with honors in graphic design, which lead to a successful career in the advertising industry. This year, I decided on a career change to get back to what fuels my fire: decorating, redesigning and of course home staging.

I have a flair for interior design. With additional courses in architectural drafting and an understanding of home construction, I have enjoyed redesigning and remodeling our own home. It's through this knowledge, inspiration from various real estate and decorator shows on TV, and completion of the Staging Diva Home Staging Business Training Program, that I've been involved in numerous redesign and home renovation projects."
Large empty walls pose home staging challenge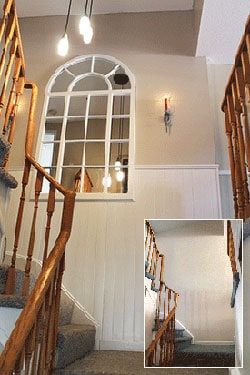 Catherine shares this redesign project where she transformed the vast empty wall of an uninspiring stairway in a new home (see inset photo).
She considered hanging a bunch of family pictures from top to bottom like you see in movies or on TV shows, but who has that many framed photos? Besides, this tends to look cluttered and distracts from the architecture. She also considered sourcing a decorative rug or large piece of artwork.
Instead, she designed, built and installed an arched mirror and the wainscoting you can see in her photo. She also added wall sconces and replaced the builder's carpet and ugly bubble lights. The stairway (main photo) really makes a statement when you enter the home, thanks to Catherine's redesign of this interior.
"I was unsure of how to get started with my home staging business," says Catherine Menard. "As a long time graphic designer, I of course had to both design and build my own home staging website. Through the Staging Diva Home Staging Business Training Program, I learned a lot about the business as well as website SEO. Joining the Staging Diva Directory of Home Stagers was the next step to getting my company noticed."
Home staging career starts in your own house
It's not uncommon for a home stager to begin first with decorating or renovating her own home as Catherine did. I had bought, staged and flipped 6 homes before starting my home staging business. However, unlike Catherine, I had no training in architectural drafting or graphic design. Like most home stagers, I relied on my innate talent. When I look back over my own life, I think it was obvious from the time I was about 3 or 4 years old that I was born to be a home stager.
Who needed to play with Barbie® when it was way more fun to build furniture out of tissue boxes, toilet paper rolls and whatever scraps of fabric I could find around the house?!
Share Your Home Staging Success Story!
I'd love to write about your home staging career and get you some free publicity for your home staging business. Your story will inspire others with the many possibilities they have to use their own creative talents. Simply fill out the quick online form I've created to share your latest project or success story.