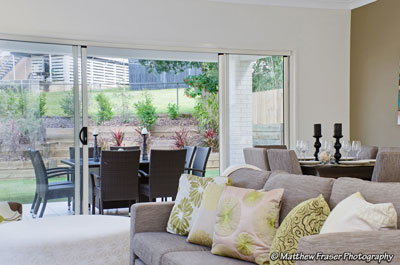 Australia home stager, and new Staging Diva Graduate Katrina Gibbons of Stylus Home Staging Brisbane, shares a terrific example of how much more desirable a staged home looks than a vacant one.
Check out Katrina's transformation of a living room/dining room, and patio area visible just beyond the glass doors.
By the way, this is also a great example of a compelling before and after photo pair for a home staging portfolio.
The two shots are taken from the same vantage point and show a dramatic transformation in a single glance.
Katrina's client's Realtor had been telling her for months that she needed to stage her vacant home, and Katrina was able to convince her to finally do it.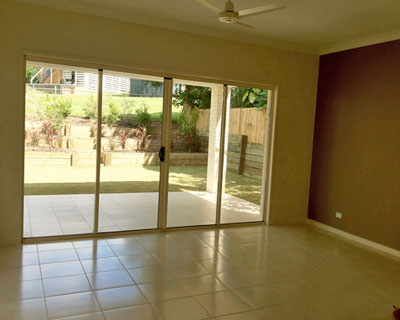 This is a somewhat unusual twist as often it's the real estate agent who doesn't see the need for home staging.
Which is illogical really when you look at how much more inviting a furnished area is, as proven in the after shot here compared to the before picture of the empty space.
Home buyers search MLS online first
Considering most buyers look online at MLS before ever contacting an agent.
It's so critical that the marketing photos for the real estate property look enticing.
With home staging, the furnished rooms:
Have a clearly designated purpose
Look bigger
Have a better chance of attracting an emotional response from a prospective buyer
Are more eye-catching on MLS and more likely to motivate showing appointments
Why wouldn't any real estate agent jump on the chance to have his/her real estate listings furnished?
There are plenty of reasons that I've written about in past articles like "Stagers, don't let real estate agents discourage you."
Why showing an obviously vacant house is a bad idea
Empty rooms just look depressing and they're hard to fall in love with.
An obviously vacant house looks lonely and forgotten and makes a perspective buyer wonder why the house is sitting there.
These thoughts inevitably become, "Perhaps someone got divorced, died, or ran into financial trouble? Perhaps they're desperate to sell, which means I can write a low-ball offer or wait until the asking price drops?"
None of these ideas lead to warm and fuzzy "This is home, I have to live here!" feelings. The feelings that motivate a perspective buyer to make a solid offer now versus later.
In other words, putting a vacant home on the market is almost guaranteed to leave money on the table. As home stagers, we need to educate real estate agents, home sellers and builders/contractors alike.
I share how to do that in "Course 4 – Staging Diva Sales and Marketing Secrets to Boost Your Home Staging Business."
Katrina Gibbons shares her personal experience about what it's like being a home stager:
"Creating Stylus Home Staging has allowed me to work from home while raising two young children. Having a home business that I am really passionate about enables me to structure my business hours around my busy family life.

Plus I get to use my creativity to help home owners.

The Staging Diva Home Staging Program showed me how to correctly establish my business and taught me how to talk to clients with more confidence. It also helped in my pricing structure, website, social media and marketing."
If you're already a home stager, I'd love to write about your business too. Here's how to get featured in an upcoming home staging success story!
If you've ever run into resistance from Realtors®, check out this article, 5 Secrets Real Estate Agents Need to Hear From Home Stagers.
I'd love for you to share your experiences with staging vacant homes, or questions, in the comments below. That way we can keep the conversation going and you'll give me ideas for what you'd like to read about in future articles!