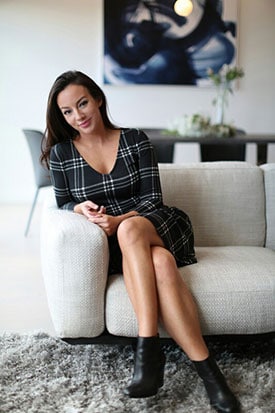 Staging Diva Graduate Carrie McCampbell is a Washington-based designer with a love for renovations, remodels, DIY projects, home staging and decorating.
Her motto is "beautiful spaces on a budget" which works especially well when decorating a house to sell on the real estate market.
Brilliantly creative, this single mom previously worked in Human Resources Management.
After taking the Staging Diva Home Staging Business Training Program, Carrie decided on a full-time home staging career.
She launched Carrie McCampbell Design as well as a lifestyle blog featuring projects, home decor, "how-to" and personal stories and pictures.
I can really relate to Carrie's story because I was a single mom when I launched my home staging career too.
All I had was my experience of decorating my own homes to sell but I knew it was something I could base a home staging career around.
After all, who doesn't want to make more money when they sell their home?
Not everyone has the eye of a home stager and the knowledge of how to properly present their homes for maximum appeal on  the real estate market.
That's where the home stager comes in, making recommendations through a home staging consultation, and sometimes bringing in rental furniture and accessories.
Carrie shared one of her first home staging projects with me. These before and after photos really demonstrate the power of home staging to transform even a simple bedroom.
They are both from the listing photos. The before is what her own house looked like when she bought it. The after is the same room and how it looked when she put it on the real estate market.
More proof that home staging works
The before picture home sat on the market for months with no offers and multiple price reductions. It was "professionally staged" too, but it's looks pretty boring.
The after picture home, professionally staged by Carrie, received 9 offers within four hours of being listed.
The staged home sold that same day for $60,000 over her asking price.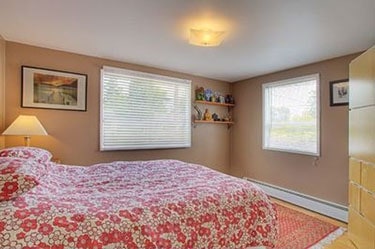 In the first photo of the room when Carrie bought the house, the walls are a dark beige and the cheap builder's ceiling fixture is outdated.
The shelves on the wall are filled with clutter and are more of a distraction than a focal point.
There is a huge piece of furniture in the corner and the angle of it steals even more precious floor space.
Though less obvious in the picture, the bed is right at the entrance, making the room seem smaller and more cramped.
The after picture is how Carrie staged it a few years later when she was ready to sell.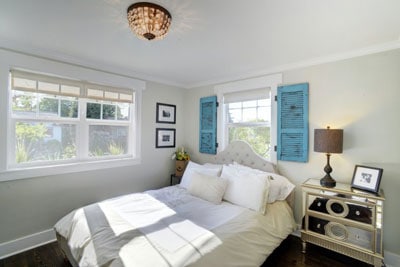 The paint color is light and airy and the ceiling fixture has been updated. Smaller furniture with a different layout opens up the space.
Decorative shutters around the window create a focal point above the bed and a welcome pop of color.
This is a great example of minimal changes that make a large impact!
By the way, although the room looks entirely different the fact that it's taken from the same angle is important from a home staging portfolio perspective.
It's obvious that it's the same room because of the location of the windows and ceiling fixture. (One of many tips I share in the Staging Diva Ultimate Portfolio Guide: Winning Clients With The Perfect Home Staging Portfolio.)
Same room, different design choices and VERY different outcome on the real estate market.
Now, I don't have the dates of these sales, so you might be able to argue that different market conditions might have been a factor too.
Yet, have you ever noticed that even in a hot real estate market, there is always that house that sits there unsold, despite multiple price reductions (as this one had)?
It's hard not to see how much more appealing the same room looks in Carrie's after photo.
She definitely has a natural eye for furniture placement, simple yet elegant style choices and getting a maximum "wow" on a budget.
Obviously, a room that looks much better will have a greater appeal to home buyers. Read more about why home staging works here.
Carrie McCampbell writes,
"I had no idea that when I sold this home that I was actually staging it! When I had so much success with that home selling the first day for $60,000 over the asking price and then helping friends decorating their own homes for the real estate market, I realized I could have a home staging  career.

But I didn't know how to make that happen. That's where the Staging Diva Home Staging Business Program came into play.

I'm so thankful I found such an amazing program that showed me the way! Thank you Debra for helping me turn my talents into such a great home staging career."
Please join me in thanking Carrie for sharing her project with us and in congratulating her on turning her natural decorating talent into a full-time home staging career.
Do you have an interesting staging success story to share? Please let me know by filling out this online form and perhaps I'll feature your business in an upcoming post!