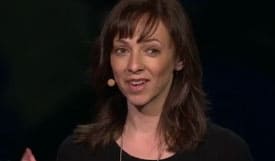 I've taken a few informal polls on Facebook and Twitter with my fellow home stagers and discovered that most of us are introverts. It doesn't mean that we can't be extroverted when it serves a purpose, as so endearingly described in this video of author Susan Cain's TED Talk.
It just means being extroverted is not our natural inclination.
Growing up in a world that expects us to be extroverted, it can be hard to appreciate our special gifts. In this video, Susan shares ideas from her new book, Quiet: The Power of Introverts in a World That Can't Stop Talking.
I've always found the ability to be alone is a strength, especially when I see the lengths many people will go to just to always have someone around them. On the other hand, it does mean I really have to push myself to do the self-promotion that's required when you run your own business. I've certainly proved that it can be done because I've been supporting myself, and later my family, since 1989 working from a home office.
Susan Cain explores the importance of solitude in innovation and creativity.
This is something I think most home stagers can relate to. Much of what we do to build our staging business is done from a home office and few of us work with partners.
I've also noticed how many home stagers ask me whether it's OK to ask that their client not be present when they're staging their home. I know I do my best work when I can be alone in a space and connect with it in a different way then when the homeowner is there. In fact, I discovered through writing an article a few months ago, that I'm not the only home stager who believes that a house speaks to me!
So I hope you enjoy this video and that it opens up a discussion here about how it's OK to be "quiet" rather than "rowdy" and how the qualities that come with being introverted actually help us as home stagers and as entrepreneurs.
What do you think? Are you more introverted by nature? Please share your experiences, I know we can have an interesting conversation that will inspire all of us.

Debra Gould, The Staging Diva®
President, Voice of Possibility Group Inc.
Debra Gould has been an entrepreneur since 1989 after walking away from a high-paying corporate job and the office politics that come with that environment. She developed the Staging Diva Training Program to teach others how to earn a living doing something they love. There are now more than 7,000 students in over 20 countries learning from her many products and services for home stagers.