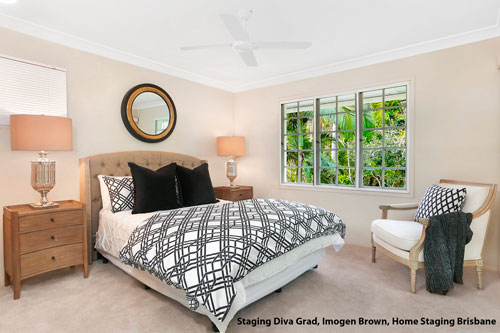 Virtual Home Staging Consultations offer a way to make money while coronavirus worries keep you from your clients' homes.
You'll use your talents for home staging, color consulting, and decorating (or redesign) in a new way.
This is part two on my series on What Coronavirus Means for Home Staging.
Virtual consultations offer an efficient way to get home staging jobs and decorating jobs, when you (or your client) want to avoid meeting in person.
Virtual consultations can also expand your client list well beyond where you live! For example, when my own home staging business was based in Toronto, I earned money from virtual home staging consultations in Chicago, Anchorage Alaska and more.
What's a Virtual Home Staging Consultation?
This is not about "virtual home staging" where photos are manipulated on a computer to simulate a staged home. I've written several articles about that already.
(As an aside: Many stagers wonder if they should learn how to use virtual staging software to offer that service. Don't bother! Most companies that use virtual staging software to create fake photos of interiors, farm the work out to third-world countries. This way, they can offer the service for only $25 – $29 per virtually staged photo. Home staging is NOT a minimum wage job.)
In this post, I'm talking about offering virtual consultations not virtual staging or decorating. In other words, you're not going to your client's home in person. You're offering all the advice you might in an in person home staging consultation without going there.
Your "sheltering in place" clients will declutter, move furniture (and even purchase accessories online) themselves, based on your advice.
You get paid for your advice, the client implements your suggestions, and no one has to meet in person!
How To Do a Virtual Home Staging Consultation
You don't need sophisticated software or technical know-how to do a virtual consultation. It can be as simple as having someone email you their photos. Then you get on the phone together to discuss and make your recommendations.
I prefer making my recommendations verbally rather than giving myself the homework of writing a detailed home staging consultation report.
To avoid big photo files being emailed, you could have your client upload their photos to a GoogleDrive or DropBox folder.
Or, how about doing the whole thing on a Facetime, Skype, WhatsApp or Zoom call?
You could use these online video options to meet and give your advice (instead of by phone). Or, your clients could tour you through their home this way instead of providing photos. Or you might do a combination of both, photos and video tour.
It's entirely up to you.
Staging Diva Grad Kasia McDaniel of Blue Diamond Staging & Design recommended exterior paint colors for a client who was building a new home, without ever visiting the site. And for another client, she advised how to arrange all the patio furniture on a screened in porch during a Zoom call.
I've done many home staging consultations for entire homes working from photos my clients sent me in advance. Then I hop on the phone with them and make my recommendations.
You can also have a "follow up" step where you do a second video call so they can show you the results and get any last minute touch up advice 🙂
Virtual Decorating Consultations
As a home stager with decorating talent, you don't have to limit your market to people who are selling their homes.
You can use the same approach for virtual decorating (redesign) consultations.
Think about all the people who have spent 3+ months at home almost 24/7. There are so many potential clients who desperately need help making their current home more appealing.
Not to mention how many employees want to set up a home office now that "working from home" will continue indefinitely for so many!
There are tons of money-making opportunities for your staging and decorating talents. It's a matter of using the right marketing so clients can find you!
If you're a Staging Diva Grad, make sure to listen to Course 4 again for ways you can attract this new client base.
Get Paid Upfront for Virtual Consultations
Just as I share in the Staging Diva Home Staging Business Training Program, you need to get paid upfront.
That can be as easy as having your client e-transfer the funds, or you can use PayPal to create a "Buy Now" button for your website.
You can charge anywhere from $250 to $300 and up for virtual home staging and decorating consultations. Depending on how you structure your services and whether you follow the business and pricing strategies I share in my home staging courses.
You can also charge for your time to find the right furniture and accessories to complement what they already have. Don't forget to use affiliate links for them to order online. This becomes a source of passive income, discussed in more detail in Course 5 of the Staging Diva Home Staging Business Training Program.
Want to learn more about how the coronavirus won't stop home stagers from making money right now?
Home Stagers, Have Your Say or Ask Questions
Home stagers, I'm curious about your experience. Please share in the comments below if you've done any virtual consultations.
Also comment if you have a home staging or business question related to coronavirus. It will inspire future posts in this series.
What's Next
In my next article in this series, I'll talk about how you can work in a client's home while staying safely apart.