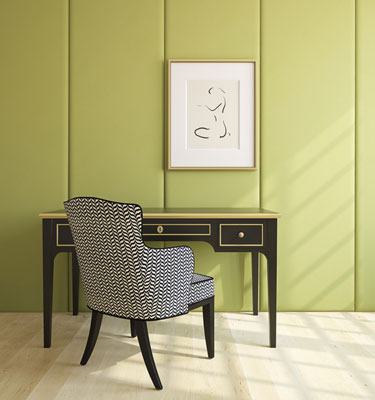 Depending on what email lists you belong to, you may have recently received a message or two attempting to sell you virtual staging software.
I know this because I've heard from many of you curious about my take on this practice.
In my opinion there are two types of virtual staging.
The first type of virtual staging (which I practice), is "virtual" because I don't actually go into a client's home but I give them staging advice by phone based on photos they provide me with to analyze.
This allows clients to have my staging advice and do the work themselves at a lower cost than if I were to do an actual consultation in their home.
It also allows me to offer specific staging advice to clients outside my geographic area. A great way to expand your business!
The second meaning of virtual staging I don't practice. I don't recommend it because I think it's a waste of a client's money.
Virtual staging a waste of money in most cases
Virtual staging companies have entered the home staging industry that use virtual staging software which allows you to load photos of vacant rooms to a computer and manipulate them to make it look like the rooms are furnished.
Their goal is to sell attractive listing photos to realtors for use on feature sheets, listing sites and MLS.
Notice the (stock) photo in this post. There's something a little "off" about it. That's because it's not a real photo taken in a real room.
It's a simulation created by virtual staging software.
With "Virtual Staging", no real furniture goes into the house
The software (used by a stager, decorator or interior designer— or a service that exclusively specializes in photo manipulation), is doing the "staging" by creating images of fully-furnished rooms.
This software can be great as a way to simulate what you're recommending to get a client's approval for a decorating project. They have to understand and "buy into your creative vision."  This software (assuming you can load the furniture you actually want to use) would be a helpful tool to do that. I admit, I've never needed to do this either.
In home staging, you're not asking your clients to live with the changes you're making to sell their home. My clients get out of my way and let me do what I believe is right, because they're paying for my advice. There's no need for me to present them with drawings or concepts for approval in advance.
In home staging, the only reason you'd use virtual staging software is to manipulate listing photos.
Why is virtual staging, using software to manipulate listing photos, a waste of a home seller's or real estate agent's money?
Because very few properties are bought sight unseen!
While fake photos might spark their interest in a property,  potential buyers are going to be disappointed when they finally do a showing and realize the house is nothing like the photos they viewed online.
And everyone knows a disappointed prospect is not a buyer that makes a good offer!
Potential buyers might even find themselves wandering through the empty house wondering why the owners had to move out so suddenly.
Sensing desperation, this could attract a low-ball offer. Certainly not the goal of home staging! For more on this read, Why Home Staging Sells Your Home Faster and For Top Dollar.
Your job as a home stager is to romance the buyer and while photos are critical (almost 90% of buyers look online for a home before calling a real estate agent), they don't count for everything.
The buyer needs to be romanced when they pull up to the home and take in the view from the curb. They have to fall in love when they walk through the front door. They have to fall deeper in love with every single room until they have the feeling that it's the property they've been looking for.
That's why virtual staging software misses the mark and why it will never replace the need for real home stagers.
Virtual staging for foreign buyers and investors
If you know that the home will be bought by a foreign buyer or investor, virtual staging might have a place.
An investor just needs to see something that looks easy to rent and generate positive cash flow. They don't have to fall in love with the home.
Another exception is if you're selling properties to foreign buyers who have no interest in living in (or renting) the home and just want an offshore investment to get their money out of their home country.
For example, Vancouver (Canada) is one of the most expensive real estate markets in the world, due largely to Chinese investors parking their money in real estate there.
Multi-million dollar properties sit vacant for years, while local residents can no longer afford to buy property because it's not local supply and demand dictating the prices.
This is a subject for another article, but I wanted to make the point that investors who aren't looking for their next "home", wouldn't care as much what the property actually looks like inside.
> You can read more of my thoughts on Virtual Staging here.
Home Stagers, What do You Think?
Home stagers, have you heard of this new technology? What are your thoughts? Do you agree with me, do you have a different opinion or do you see potential in such technology?
Please add your thoughts in a comment below so we can have a discussion about this.