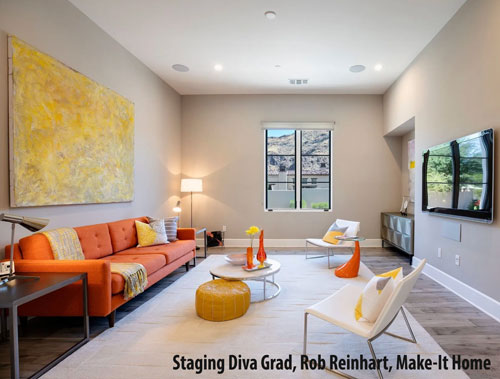 It's hard not to panic with all this coronavirus news and wonder what it means for home staging.
So many of you are wondering, "Does Covid-19 mean the end of home staging?" or "Should I even think of becoming a home stager with this pandemic?"
The short answer is that the coronavirus is NOT the end of home staging. And YES, if you have a talent and passion for home staging and decorating, this is not the time to abandon your dream of making money as a home stager.
I'll explain why, and I welcome your follow up questions in the comments section. This begins a series on what the coronavirus means for home staging, now and in the months ahead.
Why Coronavirus is Not the End of Home Staging
Depending on where you live (and when you're reading this), your local real estate market may be completely shut down, partially open, or fully open. There is a place for you as a home stager in all three scenarios!
And for markets that are totally shut down or only partially open, imagine how much demand is building as people anxiously await the day they can sell, buy, move . . .
People want/need to buy and sell homes for a variety of reasons. These don't suddenly disappear because of coronavirus, just as they don't disappear during a recession.
There will always be a real estate market
People move because of: marriage, divorce, death, job loss, new babies on the way, kids moving out, new job in a new area, wanting to be close to a specific school, needing more (or less) space, wanting a fresh start in a new environment, etc.
In fact, many of these reasons will increase the number of people needing to sell their home in the months ahead as a result of Covid-19!
You've probably read that both births and divorces are expected to increase after this period of staying at home. Not to mention how many families will be ready for a new home, just because they've been forced to spend way to much time together in this one.
There are also tons of potential clients who were already planning on listing their homes before any of us had even heard of the coronavirus.
Their listing plans may be temporarily on hold. They're stuck at home trying to figure out how to get their home showing-ready. And the more time they spend there, the more they realize how much there is to do, with no idea how to make it happen.
How to make the living room less awkward? What color to repaint the dining room? They're lost when it comes to how to make the bathrooms or kitchen look like they don't need to be completely gutted.
These home sellers need your home staging advice right now! With your game plan or "to do" list, they'd be able to do most of the work themselves and get their house together while they're stuck at home with time on their hands.
Millions of people will need to downsize or upsize their homes.
Everyone selling will want to get top dollar and sell quickly as soon as the real estate market is partially or fully open.
Which means the demand for home staging will go up. And that means more money for home stagers, when they have the right business model to follow. When they understand what to charge, how to get paid, how to attract clients, and more. That's what I share in the Staging Diva Home Staging Training Program.
Luckily, there's no need to attend a live event to learn from me, I've always offered "distance learning!"
Since 2005, I've been teaching home stagers in the United States, Canada, Australia, and more than 20 other countries how to make money from their staging and decorating talent. My home staging courses can be downloaded as soon as you order them, or I can send them to you in the mail.
Either way, you can do the Staging Diva Home Staging Training Program from home, at your own convenience. You can get through it in about 12 hours because I keep it simple and focussed on exactly what you need to know.
No added fluff or complexity! And you don't need to buy any furniture or accessories. This a very low cost business to start when you follow my approach.
While you're staying at home now, you can learn everything you need to know to be ready for that surge in demand for home stagers.
Staging Diva Professional Home Stagers know how to transform a home to show at it's best. And we don't even have to get within 6 feet of our clients to do it 🙂 You can still practice social distancing while home staging, and stay safe while making a living, once I show you how.
I have thousands of home stagers all over the world who still have a business. Since the Staging Diva business model is based on having no overhead, their business isn't costing them anything during these challenging times!
No store front or storage locker to pay for, no inventory, no employees.
All those recurring expenses that are putting other small businesses out of business right now, don't effect Staging Diva Graduates. Their sales may have taken a temporary hit, but at least they aren't losing money each month trying to keep their business open.
Home stagers work from home with a laptop. We have extra time right now to work on our websites, marketing, portfolios and more. And many of us are making money doing virtual consultations working from photos or video our clients provide.
If not home staging, then what?
While you ponder whether being a home stager makes sense during or after a pandemic, compare it to what else you could be doing instead.
Perhaps you've lost or retired from your job and you're not sure when you can get another one. Or you may still have your job, but you don't love it anymore.
Or maybe you want to make a side income so you're not so reliant on your boss/job that you have no control over. Think about:
How many jobs you have a natural talent for.
What you can get into that doesn't require months or years of study.
Life is short. What have you always dreamed of doing?
What are you great at?
Is there another business can you start without a big upfront investment?
What jobs are recession proof?
If you have natural decorating talent, I'll show you how to turn that into a business, step-by-step.
You'll be able to do home staging, decorating, interior redesign, color consulting, professional organizing and many other services. These all fit within the Staging Diva business model. You choose what you want to offer based on your interests. You're in total control of your schedule, working only as hard as you want to.
What's Next in This Series on Home Staging During Coronavirus
Next time, I will share how you can make money from virtual home staging and design consultations. Even if the real estate market is totally closed down.
You'll be able to get paid upfront, and give your clients advice without even leaving your own home!
Please add your comments and questions below. Then I'll know what else to cover in this new series on home staging and coronavirus.
Thanks for reading. Home staging is a great career (or way to make a side income)— even with the coronavirus.
Stay healthy, try and stay calm. Limit your time with the news, and we'll get through this together 🙂