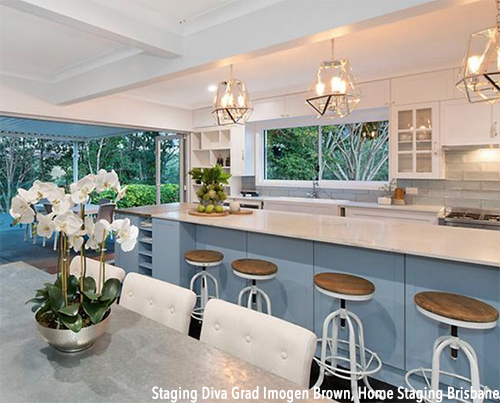 Here a few ways a home staging business can be more profitable than an interior design business:
1.  As a home stager you get the opportunity to work with different types of people than you would as an interior designer.
Generally, only very high income individuals hire interior designers, which limits your target market.
Home stagers work mostly with clients in the middle to upper income level which gives you a much larger percentage of the population to market to, and increases the number of projects available for you to work on.
2.  Home stagers enjoy a higher volume of projects than interior designers because each one is so short in nature.
One interior design project might take 6 to 12 months to complete (especially when you factor in client indecision, the wait times to have upholstery done, or furniture delivered), but the average home staging project takes only a few hours or days.
There's no way I could have decorated hundreds of homes within a couple of years as a new interior designer, the way I did as a new home stager.
With such quick projects, a home stager is able to complete (and get paid for) a significantly higher number of projects per year than an interior designer who often has client work on hold through no fault of their own.
3.  When the economy is slow, people eliminate the non-essentials. Interior design or decorating isn't really high on the "essential items list" especially when choices need to be made about what to give up, and there's no real deadline to redecorate or renovate a room.
In uncertain times, interior design moves way down on the priority list, while home staging move up.
No matter how slow the economy is or how much the real estate market has declined, there will always be people who absolutely have to sell and move by a certain date.
Divorce, job relocation, job loss, mounting debts, a death in the family or a birth often get people to put their house on the market even if it isn't the best time to sell.
When a homeowner is desperate to sell their house, a home stager will often be involved since the seller stands to make a handsome profit from their services.
When people have less time, less money or less equity in their house, they need a home stager so they can get whatever they can out of the sale of their home!
As a home stager, your creativity and talent for decorating will serve you well in slow economic times and slow real estate markets.
I especially love the amount of creative freedom I get as a home stager.
Because my clients know I'm decorating their home to sell and not for them to live in, I am able to execute my creative vision without their interference or taking their taste into consideration.
I can't imagine wasting hours sitting with a client who can't decide which color they want for their bathroom, or which fabric to pick for their drapes. My clients don't care what I choose as long as their house will sell quicker because of it. Besides that, my home staging business is extremely profitable which every entrepreneur wants.
If your interior design business isn't doing as well as you hoped, it's not too late to make a change towards living a more creatively fulfilling career that is also more profitable.
Do some research into the home staging field. It's a career that is virtually "recession-proof".
Catch up on part 1 of Recession Proofing Your Interior Design Business.