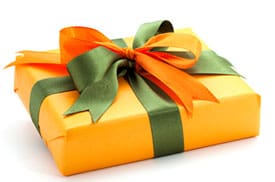 Are you thinking about gifts for your home staging business clients and potential clients? It's tricky figuring out the best approach. Get it right and you can actually boost your business. Get it wrong and you might inadvertently offend the people you want to impress, or send the wrong message altogether. Like anything else you do to connect with clients or potential clients, home staging business gifts are part of your home staging marketing. Here are 3 steps to getting it right:
Step 1: Decide on your home staging business objectives for gifting
Before you can choose the right business gift strategy, you really need to sort through your objectives. You don't want to spend too much money overall. And you want to thank home staging clients appropriately while reminding both clients and prospects about your home staging and interior design services.
Step 2: Set a realistic budget for your home staging business gifts
Your calculations should look something like this:
Overall budget for business gifts this season is $ _________ .
Gift value per client is $ _________ .
Gift value per prospective client is $ _________ .
(Number of clients x gift value) + (Number of prospects x gift value) = $ ________.
Is this over your budget? If so, be more selective about who you give a gift to.
Maybe some people on your list should only receive a holiday card? If you send a card, take time to write a personal message. Just sending a card with "Best wishes" and your signature does little to build your home staging business relationship and will be easily forgotten.
To get back within your overall budget, you can also lower the dollar value per home staging business gift. From experience, I've found it's better to be very selective about who you send a gift to rather than including almost everyone and then spending so little per person that you send the wrong message.
Step 3: Choose the appropriate business gifts for clients and prospective clients
Once you've sorted out your budget, it's much easier to start thinking of gift options. For many, the default will be a gift card to a coffee shop like Starbucks or Tim Hortons. They're easy to tuck inside a greeting card and mail so you don't have delivery costs to worry about. Plus most people use these services.
The problem with giving a gift card to a particular establishment is that you're associating your brand image and positioning with theirs. There's a big difference between Tim Hortons and Starbucks, for example, because it's not actually about the coffee. You won't find construction workers and hockey players in a Starbucks ad, but Tim Hortons features them all the time.
The other problem with a gift card is it has a specific dollar amount. So you'll get clients who might be offended rather than appreciative of your generosity. Once money enters into it, you trigger all kinds of preconceptions and emotional baggage.
They might think, "Wow I spent $2,000 on her home staging services and she's sending me a $10 gift card!" Meanwhile, you were hoping for something like, "Isn't that nice that she thought of me this season. It was great working with her to stage my house. I really must call her to see if she can help me with my new house."
On the other hand, let's say you dropped off flowers or a plant. Then it's not so much about the dollar value of the gift. It's more that you thought of them and took the time to give them a gift. Plus, it's an item to enhance the look of their home. Isn't that what your home staging and interior redesign services are all about?
What do you think about the home staging business gift giving conundrum? Please share what you've done in the past or what you're thinking of doing this year. I know everyone will appreciate your ideas, insights and inspiration!
Debra Gould, The Staging Diva®
President, Six Elements Home Staging and Voice Of Possibility Group Inc.
Debra Gould has an MBA in Marketing and knows from personal experience how to make money as a home stager. She developed the Staging Diva Home Staging Business Training Program to teach others how to earn a living doing something they love. There are more than 7000 Staging Diva Students in the U.S., Canada and over 18 other countries. Debra is frequently profiled in the media for her home staging expertise and is the author of 5 guides for home stagers.