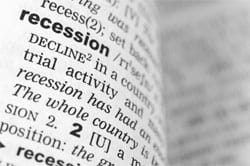 With the economy on everyone's mind, I hope you're not interpreting all the "bad" news as a reason to stop home staging marketing for your business.
A slow housing market makes home staging and even more valuable service.
For one quick example of why, think about all the neighborhoods in your area where there are multiple comparable properties for sale.
If sellers are educated about home staging, they will be likely to hire a home stager to set their property apart from the competition. A small investment in home staging is way better than losing money by dropping their list price.

If you stop marketing your business when times are tough, the people who need your services won't be able to find you.
In Course 4 of the Staging Diva Home Staging Business Training Program, I talk about all things marketing.
Including why "one-off" advertising methods like newspaper ads and flyers don't work.
I also share the best marketing techniques to attract clients to your business without breaking your budget.
Relationship marketing is one of these methods
One of the most important things you can do to market your business is to work at building relationships with your potential customers.
Relationship marketing costs nothing but time and is probably one of the most effective ways to gain new clients, repeat business and referrals.

So what kind of marketing methods do you use in relationship marketing?
You can start a blog and an email newsletter to begin with. When you commit to sending out a regular newsletter or blogging, you'll build a relationship with potential clients.
Your subscribers are going to start feeling like they know you. This makes it more likely they'll hire you when they're looking for a home stager.
When you focus on solidifying relationships with your clients (past, present and future) by sharing your knowledge,  you're building trust and we all love to do business with people we trust.
As I mentioned, it doesn't have to cost anything to put out a newsletter or to keep up a blog.
Yet, it can take a great deal of your time— mostly for thinking of what to write about and then writing and editing your articles.
If you want to get started on your own blog or newsletter, or if you've already taken the first steps but you're having a hard time writing new content, there are two Staging Diva products to help you.
Staging Diva Chronicles: Volume One and Two are collections of articles I've written  that you can use for:
Your own learning.
To promote the home staging industry.
For your own self-promotion.
You can publish any of the 24 Staging Diva Chronicles articles in your newsletter, post them on your website, use them as blog posts or share them through social media.
There's enough content in these two volumes to keep you going for 6 months to two years, depending on how you slice them up or how often you publish something.
All you need to do is copy and paste and ensure that the formatting is left in tact to make sure the proper copyright information is displayed, and you're done!