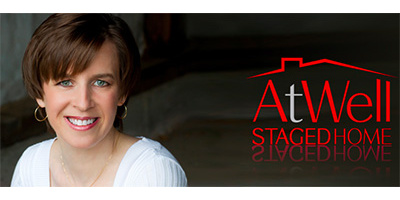 In the past I've written about the 5 home staging secrets we need to share with real estate agents and how home stagers shouldn't let real estate agents discourage them from a home staging career.
Here Staging Diva Graduate Susan Atwell shares a story about a presentation she made at a real estate office.
One of her key goals was educating real estate agents that their first instinct to say, "No need for home staging, your house looks fine," is often NOT the best advice.
She wrote this in response to an article I wrote about how a Barrie real estate agent led their client astray with bad advice about home staging.
Funny that this article should appear just after a presentation I made at a local Real Estate office.  One of the examples I used was a vacant home that had been listed for 4 months before the home sellers called me in to stage.

It then sold in a week to someone that had already seen the unit.

I used this example because the home seller had asked the agent about doing additional fix ups and staging.  The agent told them to do a few minor things – no need to do more than that – no need for home staging.

The group of agents I was speaking with would have loved it if their clients had asked about home staging.  They felt their biggest hurdle is getting their home sellers to embrace the idea of home staging.

Their manager even encouraged all the agents to offer a 2-hour consultation, and to either pay up front, or to reimburse at closing.

He felt strongly that by selling faster they would easily make back my home staging fee.  I was thrilled and encouraged. I had worked with a pair of agents from this office before.

But I did not know that the manager was such a strong proponent of home staging.

The home I staged was on the market 3 months and sold 1 week after staging – through another real estate agent in that same office.  And all it took was a 3-hour agent paid consultation.

My goal in this workshop was to help these Realtors "sell" their clients on the need to showcase their homes – through education, analogies and examples.  Also, to let home sellers know that staging is another one of their marketing tools used to sell homes quickly and for top dollar.

I encouraged them to spoon-feed staging to their clients at every meeting.  Similarly, I feel that agents will become more and more comfortable with the idea of home staging the more we – as home stagers – educate the agents.

Most of these agents been receiving my home staging newsletter for over a year now. Each month I include a short feature written specifically for them.  I also include an article written for their sellers.  My blog contains this content along with other educational tools.

I'm not surprised at Margaret's experience with the agent, but wanted to offer these words of encouragement, that the tide may be shifting.  Slowly, and in the right direction."
It's been a joy watching Susan's home staging business grow over the years. I've also got to know her through our coaching calls together and her active participation in Staging Diva Dialog.
Susan's home staging training observations
Susan shared her observations on what makes Staging Diva Home Staging Business Training unique. It's been 5 years since she took the program and started her business, so she can offer perspective looking back at how it helped her.
I spent several months researching training courses before formally starting my home staging business.  I was confident in my ability to stage as I had successfully staged and decorated several homes for friends and family.  (I believe that you either know how to stage or you don't.)

I almost took a very expensive course, from a high-profile provider of training, but thought better of it.  What could I really learn from that course that I hadn't already learned from the web, TV, books, and personal experience?  What I really needed to learn was how to run a profitable home staging business.  That's when I searched for business training and found Staging Diva.

Debra Gould has a simple, logical, and effective business model.  Right from my very first paying job, I had all the information that I needed to succeed.  I came across as a seasoned and experienced pro.  I have used this business model for over 5 years with great success.

I would recommend this education highly for new home stagers.  It is also a great formula for seasoned stagers that might not be getting the most out of their current business model.  The course was worth every penny I paid – and ironically, half the price of the first course I contemplated.  Without a strong business model, I would have made many costly and frustrating mistakes."

It's more than just business training, it's a road map, a business model.  If you follow the plan I believe it will lead you down the path to success."
I appreciate that Susan mentions that Staging Diva Home Staging Training is also appropriate for seasoned stagers who aren't having the business success they'd like.
That was a big part of what motivated me to create this program in 2004.
I had been hearing from frustrated and struggling home stagers for a full two years who had discovered my own home staging business website, and wanted to know how I'd had the success I had and how they could do it too.
That's when I realized there was a gap in home staging education.
Existing home staging courses are mostly about how to decorate/stage, understanding the color wheel. Some even sell cleaning supplies at a discount to their students. We aren't aspiring to be house cleaners, what's up with that?!
Thank you Susan Atwell for your observations about the Staging Diva Program and for sharing your experience with presenting to real estate agents (a technique I discuss in Course 4 "Sales & Marketing Secrets to Boost Your Staging Business"!
Has anyone else done a presentation in a real estate office? What was your experience? Did you use real-life examples to illustrate your points? Please share in the comments below.
And if you'd like me to feature you in an article, please click here to share your staging story.