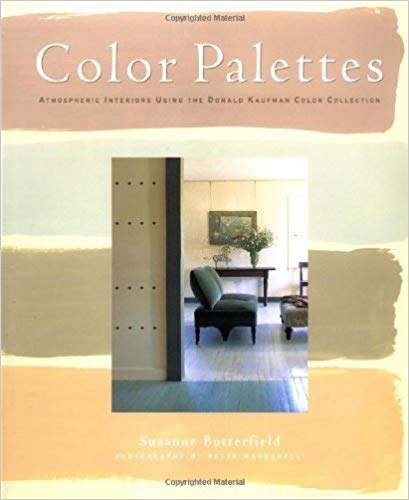 As much as I enjoy Pinterest and Instagram for inspiring interior photos, I still love a good "coffee table" book!
Below you'll find some of my favorite books on color from my own collection.
I'll often bring a few of these books to a client's house when I'm doing a color consultation for someone who isn't moving.
Color Consulting Clients Don't Know What They Like
When you first go to a color consultation and ask a client what colors they like, or what mood they're looking for in their home, most will have trouble articulating it.
Flipping through color books like these with a client can help them identify what they like and don't like.
Which makes completing an effective color consultation so much easier!
It's important not to impose your own view of what their home can be with no thought to what colors the homeowners feel comfortable with.
After all, it's their home and they'll have to live with your choices!
Look for Color Clues
You'll also get clues about what colors they like when you pay attention to their artwork, accessories and even the clothing in their closets.
I distinctly recall a client telling me she loved blue when I arrived for a color consultation. Yet everything she owned (and wore) was in warm earth tones.
That was a "red flag" for me.
Looking at room photos together really helped my client realize she wasn't drawn to cool interiors.
I also pointed out that looking at blues and greens in homes in tropical climates was not the same as living in one. Especially since she's in a city where snow tires are required 6 months of the year 🙂
Eventually we arrived at a color palette she was excited about. A palette that was also more in keeping with how she feels comfortable!
Let me know if you've ever used any of these books yourself, or if you have other favorites to recommend in the comment section below.
My  Favorite Books on Color
Home Staging Color is Different
When I'm recommending new paint colors for a home staging consultation, I use my favorite 85 colors in the Staging Diva Ultimate Color Guide: The Easy Way to Pick Color for Home Staging Projects.
Learn About my Ultimate Color Guide here!
Do you have a favorite book you use for coming up with color palettes for your clients? Please share in the comments below.