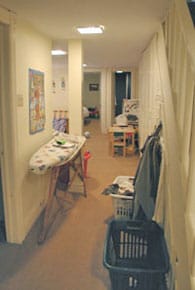 Certain areas of a home are more likely than others to be forgotten when it comes to staging a property to sell. However these spaces, which seem unimportant to some homeowners (or even some home stagers), might actually rank higher than expected on a prospective buyer's house wish list.
In a post on Monday I gave tips for staging the garage. Today, my focus is on an equally important selling feature of a home:
The Basement. You never know what a prospective buyer may have planned for the basement of a property you're staging. If the homeowners are using their basement primarily for storage, make sure everything is in order so a buyer can perceive it as a great, usable space.
The basement should never be kept looking like a dumping ground when a house goes up for sale.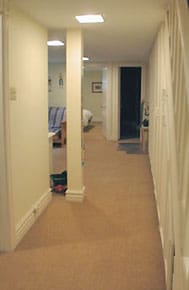 Put up shelves to get as much clutter off the floor as you can. Have your clients donate or sell anything they don't want to move and suggest they put other large items into storage that they'll be taking with them to their new home.
If the walls and floor are dingy, give them a fresh coat of paint.
Install better lighting if needed.
Put up blinds to hide ugly views from basement windows.
In a finished basement, help buyers envision a use for the space by adding props such as a craft table or workout equipment. Add accessories such as plants, art and lamps to give the space warmth.
On Friday I'll post tips on how to stage a laundry room to sell. In the meantime, if you found this advice useful and haven't already read Staging Diva Ultimate Design Guide: Home Staging Tips, Tricks and Floor Plans, you should get yourself a copy. It's full of this same type of home staging advice and covers every nook and cranny of a property.
If you have a basement home staging story to share I'd love to read it! Please share it here by leaving a comment below.
Debra Gould, The Staging Diva®
President, Six Elements Inc. Home Staging
Debra Gould developed the Staging Diva Training Program to create opportunities for others to grow their own profitable home staging businesses. There are currently over 1000 Staging Diva Graduates around the world. Debra created the Staging Diva Ultimate Design Guide: Home Staging Tips, Tricks and Floor Plans to provide design direction to home stagers feeling they need it.
[tags] home staging, home stager, home staging tips, how to stage a basement, debra gould, home staging training, staging diva[/tags]