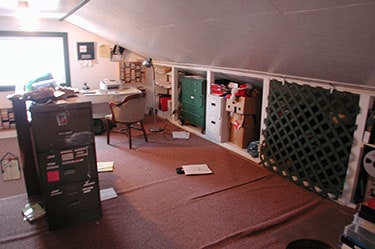 When staging a house to sell, you can't just ignore a room because it presents a staging challenge, or because you don't think it would be as important as staging the kitchen or bathroom.
The goal of home staging is to have a buyer make a strong emotional connection with a property and who's to say their dream is to have a study in the attic or a craft room in the basement?
Your job is to make the property you've been hired to stage appeal to as many people as possible. This means you have to pay careful attention to every room of a house because you can't assume nobody will care what the basement, attic or garage looks like.
In a series of blog posts, I've been sharing tips for staging different spaces in a home that are often neglected; the garage, the basement, the laundry room and today I'll cover attic home staging tips.
For this home staging client, it didn't take much to transform their attic home office. We removed the wrinkled old musty carpet and replaced it with a laminate floating floor, removed some extra furniture and clutter, and that was it!
This home staging transformation was completed in a day at very minimal cost. With more time and/or more money, I might have taken in further, but this got the job done. There are always trade offs to be made in any home staging project.
Here are some more attic home staging tips: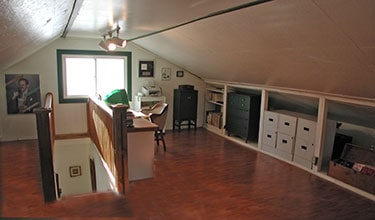 If you have a usable attic to work with when you're staging a house, show buyers how much storage they'll have when they buy the property.
Don't let the homeowners cram all of their stuff up there to hide it while the house is on the market. Have them move their things into storage or donate unused items to charity instead.
Get piles of stuff off the floor and tucked away neatly in closets and cupboards.
If there's a dusty old carpet on the floor, suggest replacing it with laminate.
Add lighting so it's as bright as possible.
All of these things will go a long way towards creating an attractive usable space in the attic.
Do you have an attic home staging story you'd like to share? Please add a comment below and contribute to the discussion!
If you'd like more home staging design tips, you should check out the Staging Diva Ultimate Design Guide: Home Staging Tips, Tricks and Floor Plans. It covers every single space of a home and offers advice along with my own before and after photos and floor plans for reference.
And if you have a home staging project you'd like to share, please submit your information to Share Your Staging Success Story.
Debra Gould, The Staging Diva®
President, Six Elements Home Staging
Debra Gould developed the Staging Diva Training Program to create opportunities for others to grow their own profitable home staging businesses. There are currently over 10,000 Staging Diva students around the world. Debra created the Staging Diva Ultimate Design Guide: Home Staging Tips, Tricks and Floor Plans to provide design direction to home stagers feeling they need it.