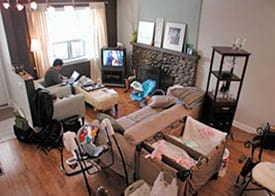 There's a definite overlap between the tasks of a professional organizer and a home stager. In fact many home staging businesses also offer professional organizing and vice versa. That's one of the benefits of being your own boss, you can decide what services you want to offer based on your: interests/talents, client demand and profit potential. Let's explore each of these.
Professional Organizer Interest and Talent
I believe most people who are drawn to home staging will have a certain talent for organizing as well. Home stagers like everything to be "just so" and everything to have a place so that a room shows well. Professionals from both fields know that less is more.
Like professional organizers, home stagers can happily spend more time creating the perfect towel roll or rearranging the books on a shelf to look nice than the average person ever would. Because we're perfectionists, many of us have probably been called "obsessive compulsive" at some time or another, especially by the "sloppier" people we know!
Although many of the homes I stage need clutter busting and organizing, I'm not a professional organizer and I don't want to be one.
I personally have no patience for sitting with a client going through every item and having them decide whether to:
Donate
Sell
Trash
Put in Storage
I became a home stager so that I could use my creative talents and I don't find that part creative (though some others would). I would rather say "50% of what's in this closet has to go" and leave it to a professional organizer to deal with individual items if my client needs that level of help.
When my home staging clients or interior redesign clients need hand-holding through the process of actually getting rid of their stuff, I refer them to a professional organizer. I consider organizers part of the team of people I might refer parts of a project to. Just as I do with painters and handymen.
As a home stager, I'm the project manager and creative director, not the physical labor. I don't swing a paint brush (though I do choose colors) and I don't wash towels (though I'll happily shop for, or arrange them, for a fee)!
On the other hand, if you love the organizing part of a project this can easily be part of the service you'll be charging your clients for. And if you're already a professional organizer, like Staging Diva Graduate Beth DeLozier Hayes, you'll find home staging services enhance your organizing business – in fact it tripled her income after taking my home staging business training!
Professional Organizer versus Home Stager – Client Demand
Home staging is a business with seasonality because we are tied to the real estate market. At times of the year when few people are selling a home, there is lower demand for home staging services. So if home organizing is part of the service you offer as a home stager, you can fill in some of the time between real estate seasons. In the past, I've written about how you can also do this with holiday decorating, color consulting and interior redesign.
When you offer more services, you'll find that one service can "cross sell" another. For example, you're hired by a client for professional organizing and when you're there you discover they need help choosing colors for their rooms. Or you do a home staging consultation and your client hires you as a professional organizer for their new home when they move (or perhaps to help organize the move itself).
Home Organizing versus Home Staging – Profit Potential
Professional organizers are typically paid less for their time than a home stager. This is one of the reasons I'd rather be hired as a home stager or interior redesigner.  Since as I said I don't personally enjoy working as an organizer, I'd rather refer that service to someone who enjoys it and earn a referral fee for recommending them. This is something I talk about in more detail in Course 5 of the Staging Diva Home Staging Training Program, called Over 30 More Ways to Make Money in Home Staging.
Creating a Win – Win – Win For Everyone
I believe you'll be happier and make more money in your own business when you create a win / win situation for everyone involved, whether it's suppliers or clients.
By referring professional organizing services to others I have a Win – Win – Win for everyone involved:
Personal Win – I stick to services I enjoy and earn passive income.
Supplier Win – The professional organizer gets a new paying client they wouldn't have had without my recommendation.
Client Win – The client gets organizing help at a lower rate than I would charge and they use my services to do what I do best!
Please share your thoughts on this topic in the comments! Are you a professional organizer or home stager who offers both services? What has your experience been with combining or not combining these?
Debra Gould, The Staging Diva®
President, Six Elements Home Staging and Voice of Possibility Group Inc.
Debra Gould created the Staging Diva Home Staging Business Training Program to teach others how to earn a living doing something they love. She has written 5 guides including the Staging Diva Ultimate Design Guide: Home Staging Tips, Tricks and Floor Plans which can be used by both professional organizers and home stagers to improve their design sense.