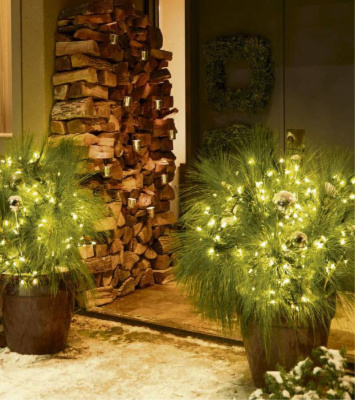 Home stagers, the holiday season is definitely upon us and this means a gradual slow down in your home staging business over the coming weeks.
A great way to bring in extra money at this time of year is with holiday decorating.
A TV News producer contacted me to appear on camera this week with my tips to "deck the halls." They know I'm an expert home stager, yet I have never promoted myself as a seasonal decorator.
I declined the tempting offer because it's totally not my expertise and something I personally feel intimidated by.
Everything I know about holiday decorating is what I pick up from reading news stories, like this one in the Globe & Mail featuring Sarah Richardson's festive decor tips. She suggests combining orange and pink for an alternate festive color scheme which I found clever.  I also loved what she did with the urns pictured in this post.
For my own media opportunity, I put the word out to Staging Diva Graduates who might be interested in appearing on camera this week instead of me. As always, first dibs went to members of the Staging Diva Directory of Home Stagers.
If you're not a member yet, you should be. It's not only a great place for clients to find your staging and redesign business, but it also leads to media coverage and guest speaking opportunities.
We build a professional webpage for you within 7 days of when you submit your Directory materials for less than the cost of a nice blender (I happened to be reading Christmas sale flyers filled with kitchen gadgets so I know!).
You even get a custom company brochure that website visitors can download, and a print version that you can hand out in meetings— it's included in the cost of an annual hosting plan! Get the full scoop on how to join the Staging Diva Directory of Home Stagers here.
Anyway, back to seasonal decorating . . .
If you're more comfortable than I am with the art of decorating for the Christmas season, and you love doing it, consider how many people are too busy or overwhelmed to take this on themselves. You might decorate the inside and outside of their home, decorate for a Christmas or New Year's Eve/Day party or even transform an office or showroom for the holidays!
Home Staging is not equally busy all year round because it follows real estate cycles.
In the Staging Diva Program I discuss ways for you to even out your cash flow by combining your staging business with things like:
interior redesign
color consulting
professional organizing
seasonal decorating
What you choose should not only come from your desire to make money but also be a function of your interests. I don't believe in starting your own business only to do things you don't like!
If you're going to make the effort to be your own boss, make sure you consider what your interests and natural talents are.
If you love holiday decorating and have a natural talent for it, then why not go for it?
There are no rules when you're an entrepreneur. If you see an opportunity that inspires you then why not take advantage of it? The idea that you should only build a business that you'll REALLY want to work in, is a theme that runs throughout the Staging Diva Home Staging Business Training Program, especially in course 4 "Staging Diva Sales and Marketing Secrets to Boost Your Home Staging Business."
I don't act on every opportunity that comes my way, but I certainly consider the ones that inspire me. When it's something that just isn't "my thing" or I'm too busy to take it on, I refer those inquiries to Staging Diva Graduates as I did with the TV News story for this week.
To be honest, I don't even plant my own outdoor urns for winter and I always hire someone else to do it for me. I've never used little white lights in them but Sarah has given me the idea to try it out this season!
Home stagers and redesigners, have you been approached by potential clients to help them with their seasonal decorating? Do you do any marketing of that service? Please share in the comments.
Photo Credit: Stacey Brandford for The Globe and Mail, feature on Sarah Richardson holiday decorating ideas.