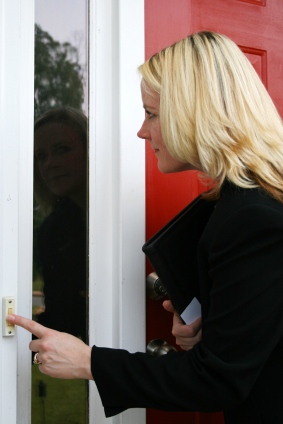 In my course, Staging Diva Sales and Marketing Secrets to Boost Your Home Staging Business, one of the more than 80 home staging marketing ideas I share is going to open houses to meet real estate agents.
It's important to be clear in your own mind about what you're there for and what you want to accomplish. This will keep you focused and channel your energies in the right direction.
When you engage the real estate agent in conversation, make sure you aren't taking time away from possible clients who may be touring the home.
While showing up at an agent's open house gives you a captive audience, you don't want to seem like you're taking advantage of that, or interfering with what the realtor is really there for.
The agent is hosting a public open house to show that particular home AND to get leads on new clients who may be selling or buying.
That's why you'll find real estate agents hosting open houses for other agent's listings! They're trying to build up their own contact list— and meeting house hunters in their targeted neighborhood is an excellent start.
As a home stager hoping to make a meaningful contact with a real estate agent that may lead to future home staging projects, I recommend you focus on these 3 objectives in your conversation:
Initiating and starting to build your relationship with that agent.
Demonstrating your own expertise as a home stager.
Educating him/her about how staging can help the agent make more money.
Let's explore these 3 objectives in more detail.
1. Initiating and starting to build your relationship with the real estate agent
This is your first face-to-face meeting and you need to make the right first impression by staging yourself first. You should have a professional, and yet conversational, way of introducing yourself. Practice this a bunch of times in advance so you sound confident when you say it, even if you're brand new to home staging.
For tips on how to prepare this see Course 2, The Business of Home Staging: What You Need to Start and Grow.
Don't assume that the real estate agent knows what home staging is, or has ever worked with a home stager before.
Even though home staging has existed for more than 15 years, and the idea that a well decorated home is more appealing to buyers isn't earth-shatteringly new, you'll be amazed at how many agents don't think about staging or have never actually worked with a home stager before!
It's up to you to explain who you are, and what home staging is, in a clear and compelling way.
Because this first meeting is an ideal opportunity to exchange business cards, you also want to get the agent's permission to email them helpful tips or your newsletter. You have one right?.
This first meeting at the open house is only the start of your relationship with the real estate agent.
You need permission to build on that relationship and familiarity in the future. With ongoing communication via a newsletter, when they need your staging services in the future, you'll still be "top of mind."
Without ongoing communication, you could pave the way for other home stagers to get hired by this agent.
Imagine if the agent hasn't heard from you in months and they suddenly have a client who needs a home stager. If your competition contacts them close to when they need staging, the agent may call them instead of you, because you're no longer "top of mind." This would be a real shame especially if you're the one who got them interested in home staging in the first place!
Personally, I find a monthly newsletter is the easiest way to keep this communication open. It's much less scary or intrusive than picking up the phone to a realtor to say "Hi, remember me?"
A newsletter lets you market to them without being pushy or "salesy."
If you're worried about what to say in a newsletter, or you're not a writer, check out Staging Diva Chronicles Volumes 1 and 2. They include 24 pre-written staging stories for you!
I'll continue this series with objective number 2, Demonstrating your own expertise as a home stager.
Please share your thoughts on this article so far.
Have you had any success meeting agents at open houses?
How did you initiate or build your relationship with the real estate agent you met this way?
Were they open to discussing home staging with you?
Had they ever used a home stager before?