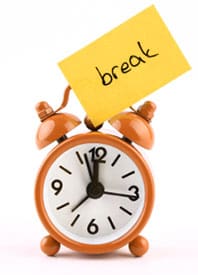 I was talking to a small group of home stagers recently and we were discussing how easy it is to beat yourself up when you have to put your home staging business on hold because of  personal issues.
It's easy to get "off track" when family members need help through a health issue or emotional crisis, or you're struggling to deal with your own stuff, whatever that may be. This happens to me too, probably more than you imagine.
Guilt Free Time Off
There are times when I need a few days (or even weeks) to focus on non-work matters, or simply to recharge my batteries. I keep re-learning the hard way that it's better to admit to myself that I need the time off upfront. Then I can take a break without all that guilt. Otherwise, I'm trying to rest and all the while I'm thinking "I should be working", which is hardly a rest at all!
It's Your Home Staging Business
That's the beauty of having your own home staging business. When personal stuff comes up, you have the freedom to take a break and deal with it. You don't have to phone up a boss and try to explain why you can't possibly come into work this week. This can really take the pressure off— when you let it and don't fall into the "I should be doing this instead" trap.
If something happens at the last minute and you have to run out and do something personal, you can do that. Unless you're expected at a client's home, or you've booked a presentation or something, your time is always your own to account for, and spend as you wish.
We don't have to feel down on ourselves for not working because we're dealing with personal stuff or taking a much-needed vacation. There is no point in thinking, "I'm supposed to be working on all of my home staging business ideas. I'm failing because I'm totally off-track."
Such thinking doesn't make you feel any better or inspire you in any way. In fact negative self-talk will kill your home staging business.
Instead of beating yourself up for taking a break, try saying this to yourself instead:
"I'm going to give myself permission to take time to help my friends or family members or to just relax for my own physical and mental health. I'm not off track, I'm just taking the break I need."
Embrace Your Freedom and Flexibility
Having your own home staging business and being your own boss means you have the flexibility to structure your time and energy as you see fit. You'll be much happier if you embrace that freedom. Accept what a huge advantage you have over most of the working world. They answer to others for how they spend their time each day, but you don't have to.
Do you have this problem of beating yourself up for taking time off? Do you feel like you're failing or "off track," whenever you take a break?
Please share your stories in the comment section, I know others will benefit from your experiences and I love to hear what you're thinking too!
Debra Gould, The Staging Diva®
President, Six Elements Home Staging and Voice of Possibility Group Inc.
Debra Gould staged hundreds of homes before creating the Staging Diva Home Staging Business Training Program to teach others how to earn a living doing something they love. She has written 5 guides and appears on HGTV and in numerous magazines and newspapers.