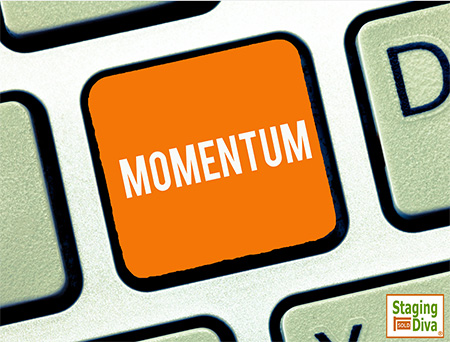 Home stagers need to protect their creative energy to maintain momentum in their home staging business.
That's easiest when you're in the middle of a project or home staging consultation.
When you're a creative person, you're a natural problem solver. Standing in a room figuring out where the furniture would look best, or what accessories are needed, is energizing.
That's when a home stager or decorator comes alive!
Does Your Creative Energy Fade Between Projects?
When you have no immediate projects booked, how do you keep your home staging business momentum?
What do you do each day to protect your creative energy and keep your home staging business moving forward?
This is something that most home staging courses gloss over. They don't talk about the inevitable dips in your energy and motivation.  And what to do about it.
I cover this in detail in the Staging Diva Home Staging Business Training Program because I know how challenging it can be. Especially when you're not expecting it!
I've been self employed since 1989, so I've come up with a number of ways to protect my creative energy and maintain my business momentum.
3 Home Stager Creative Energy Boosts
1. Pick a tabletop or shelves in your home and re-arrange them a bunch of different ways and take photos of each display.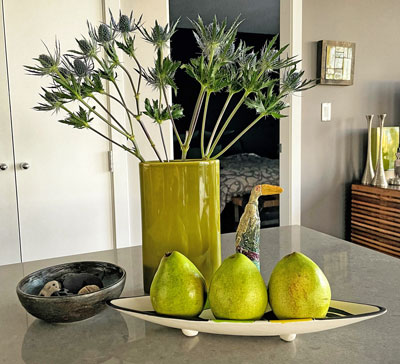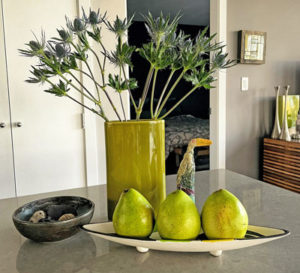 Some of these may find their way into your home staging portfolio for use on your website or in social media.
Others, might suck. That's OK too! The point is to keep your creativity flowing and practice the art of really seeing what you're looking at.
2. Choose a topic, like "white kitchens" and search online for images noticing the best styling techniques.
You can do a google image search for your topic, or pull them up on Pinterest. Perhaps create your own Pinterest board so you can browse your favorite photos at once.
This has the added benefit of being a board you can then publish on your own Pinterest account.
What can you learn from all these images of basically the same thing? In my example, "white kitchens."
3. Research a home staging or decorating topic and then write your own article.
You'll learn a bunch in your research. Plus, in writing your own article you'll have content to share in your social media posts and website.
Pro SEO Tip: Find an outside website you can post your article on in exchange for a link back to your website or Staging Diva Directory of Home Stagers listing.
You can even get your article published in a local newspaper or magazine, as many Staging Diva Grads have done.
Marketing Your Home Staging Business
You may have noticed that all these ideas for boosting your creative energy also have a marketing bent. I really can't help myself.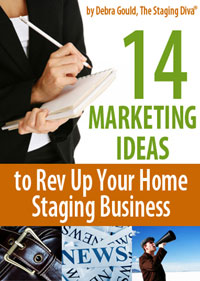 Marketing (like staging, decorating and color) is one of my super powers.
One of the best ways to build momentum for your home staging business is to find ways to leverage your time.
So while all these ideas will keep your creativity up, they can also be used to attract new home staging projects!
And as I noted at the start of this article, when you have a home staging project, your creative energy will be naturally high. Finding ways to nurture it between projects is what will keep your business growing in the months and years ahead.
Forward momentum boosts your confidence, leads to more momentum . . . and greater profits. 😎