Today's photography tip for home stagers is probably the most important one of all, especially if you're currently developing your home staging portfolio. As a home stager this advice is probably pure common sense to you, but I will assume nothing and share anyway. Sometimes it's the most obvious thing we overlook.
Be obsessive in your attention to detail.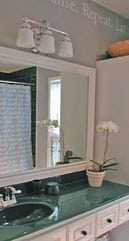 As a stager, you're naturally focused on the details, but each photo that's going in your portfolio must be perfect. Don't let any visual distractions clutter your image. Straighten art and lampshades and turn off the television.
If you've staged a bathroom beautifully but the client won't let you store their toothbrushes off the counter, remove them for your shot and then put them back.
If you recommend all shoes and coats be removed from the entry way, but the client won't have it, get those items stashed out of the way before you take your picture and then replace them.
Clients don't always follow our advice to remove their "tchotchkes". But when it's time for your after shots, take those "priceless collections" off of the kitchen counters or cupboards and the fireplace mantel before you shoot.
In the bathroom, don't take a picture of the open toilet and in the bedroom make sure dust ruffle meets, and runs parallel with, the floor. These unattended to small details will reflect poorly on your staging abilities so don't overlook them.
To catch up on the other two posts in this series, here's a link to the first (about thinking before you take your photo) and the second (where I shared some digital camera basics).
On Wednesday, in the fourth and final installment of this series, I'll share the importance of telling a strong staging story with your shots and how to do that.
Please add your thoughts and your own photography tips by clicking the comments link below. I would love it if you would add to this conversation!

Debra Gould, The Staging Diva®
President, Six Elements Home Staging
Home Staging expert Debra Gould also known as The Staging Diva knows how to make money as a home stager and is determined to inspire and teach others to do the same. There are over 7000 Staging Diva students around the world. Learn more about the Staging Diva Home Staging Business Training Program.