If you're following along with us, I think you'll appreciate today's tip which takes us back to the basics. If you missed 'Part I' of this series on home staging photography tips Wednesday, you can find it here. And please, if you have your own photography advice or would like to share tricks you've picked up along the way, please add a comment and contribute to the conversation!
Today's topic is…
Be mindful of some digital camera basics.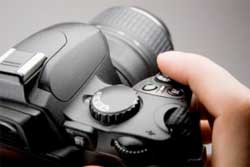 Yes we're all in hurry these days, but when you're shooting images for your home staging portfolio, slow down a bit.
Pay attention to how you're holding your camera and be sure that you have it straight and you aren't covering the lens or flash with your finger.
Don't move after focusing or while you're shooting the image – move into position before you shoot and stay still.
Avoid shooting towards a window because everything will come out too dark if you do.
If you can change the resolution setting, put it on the highest or next to highest setting and see what size the image will be. Usually an image size of 1 MB is sufficient quality for anything you'll need in a portfolio.
Keep in mind that you'll use more memory at higher resolutions, so buy a larger memory card or even a second one so you won't be stuck with insufficient memory when you're on your shoot.
You will get a crisper more detailed image at higher resolutions, and you can always reduce the resolution later. If an image is shot at a low resolution originally, you can't make it higher later. This will be quite problematic if you want to make a printed image larger or if you need to supply images to the media.
Check back in on Monday when the topic will be the importance of paying attention to detail when you're taking shots for your home staging portfolio.
Until then,

Debra Gould, The Staging Diva®
President, Six Elements Inc. Home Staging
Home Staging expert Debra Gould also known as The Staging Diva knows how to make money as a home stager and is determined to inspire and teach others to do the same. There are over 1000 Staging Diva Graduates who have learned to use their decorating talents and run their own home staging business in the Staging Diva Home Staging Business Training Program.
[tags] Staging Diva, home staging, home staging business, home staging training, staging, stager, Debra Gould, photography tips, home staging portfolio[/tags]