The photos you put in your professional home staging portfolio are among the most important photos you will ever take. Your portfolio is used to show your prospective clients what a talented home stager you are, and whoever is looking at it is expecting to see dramatic transformations to justify investing in your home staging services.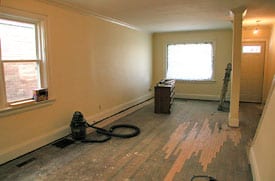 The before and after shots in this post are from a vacant room that was in very rough shape before I staged it.
At a quick glance, anyone who sees this pair of photos will understand that I know how to stage even a challenging space. That's why this pair of before and after photos is portfolio worthy. It's important to note also that I took the before and after staging photos from the same angle, so a prospective client will know at a glance that this is the same home, even though the actual transformation is so dramatic.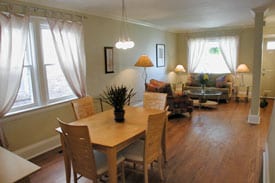 Even great home stagers can detract from their portfolios (and in turn their own image) by simply not having the basic digital photography skills to make their photos fabulous.
A good portfolio shot should demonstrate your home staging skills.
A great photo will compel people to look at it because it says something. It should be:
well lit
straight
in focus
interesting
free of distracting details
Through a series of blog posts, I will share some tips to dramatically improve the quality of your photos. Here's the first:
Think before you shoot.
Get to know your camera. Take the time to set up some practice shots in your own home and experiment with shooting the same image from slightly different angles, with and without the flash, with the lights on and off, with and without a wide-angle lens, and even try standing on a chair or ladder to see how the shot will turn out.
You can also try different resolutions settings. Before shooting your image, make detailed notes to remind you later what you did. When you load the images on your computer and look at your notes you can compare what they look like on screen and when they're printed. You'll start to learn how your camera works and what can be accomplished by doing a couple of things differently.
There will be three more posts written on this topic – Part II will be published on Friday, January 23.
"See" you then!
Home Staging expert Debra Gould also known as The Staging Diva knows how to make money as a home stager and is determined to inspire and teach others to do the same. There are over 1000 Staging Diva Graduates who have learned to use their decorating talents and run their own home staging business in the Staging Diva Home Staging Business Training Program.
[tags] Staging Diva, home staging, home staging business, home staging training, staging, stager, Debra Gould, photography tips, home staging portfolio[/tags]